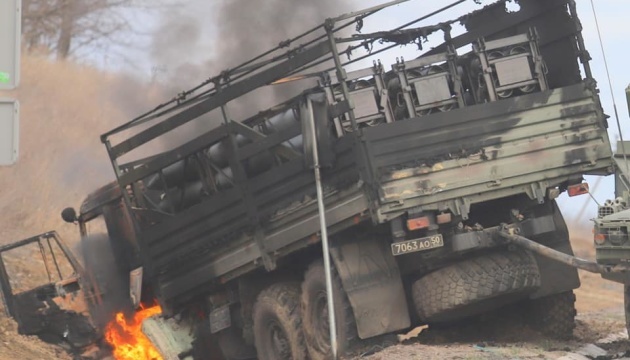 Ukraine Army holding back Russian invaders across all directions, launching counter attacks
The Armed Forces of Ukraine are successfully holding back Russian troops across all directions.
The relevant statement was made by the General Staff of the Armed Forces of Ukraine on Facebook, an Ukrinform correspondent reports.
The Ukrainian defense forces continue to keep the defense in the Eastern, South-Eastern and North-Eastern directions. The Ukrainian Army is successfully holding back Russian troops across all directions and launching counter attacks in certain areas.
In Donetsk Region and Luhansk Region, the Joint Forces Operation (JFO) group has repelled five enemy attacks over the past day. Ukrainian defenders destroyed 10 enemy tanks, 18 armored vehicles and 13 motor vehicles, 15 artillery systems. The enemy's losses also included manpower.
The Air Force of the Armed Forces of Ukraine have destroyed seven enemy air targets over the past day, namely four planes, one unmanned aerial vehicle and two cruise missiles. The Ukrainian Air Force continue to launch missile and air strikes on the groups of enemy vehicles and manpower.
The moral and psychological condition of Russian troops is remaining low and continues to deteriorate.
According to the data from the General Staff, two commanders were dismissed in the subdivisions of the 60th Separate Motor Rifle Brigade of the 5th All-Military Army of the Eastern Military District, as they refused to conduct military actions.
The deputy commander for military and political work is expected to arrive and carry out explanatory work among the battalion and tactical group in Yasynivka, Donetsk Region.
Within the units of the Baltic Fleet, namely the 79th Separate Motor Rifle Brigade of the 11th Army Corps, conscripts are massively refusing to continue service and sign contracts.
The movement of Russian military vehicles was recorded within the territory of Belarus, presumably to regroup units and create reserves in order to replenish manpower, ammunition and equipment losses suffered by Russian troops in Ukraine.
In Kyiv Region, the numerous cases of mining within the areas and buildings left by the enemy were reported.
Currently, Russian leadership is considering the establishment of occupation authorities within the temporarily captured areas. According to the data from the General Staff, they are now selecting the employees of law enforcement agencies, prosecutor's offices and courts to be sent to Ukraine.
In order to create another 'pseudo-republic' within Kherson Region, the Russian Federal Security Service, the 652nd Information and Psychological Operations Group and officers from the 12th Main Directorate of the General Staff of the Russian Federation are carrying out activities in Ukraine. In particular, they are focusing on 'explanatory work' with local self-government authorities and local residents. As part of the information campaign, they are spreading staged videos.
mk