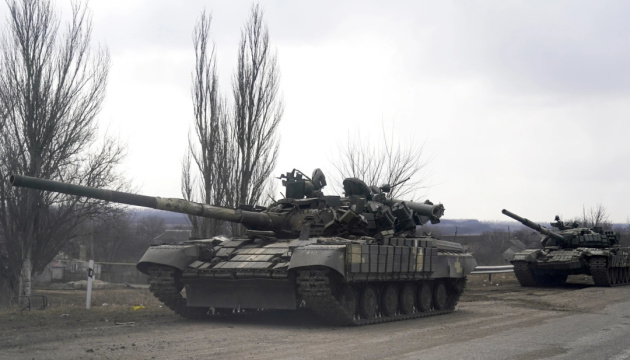 Russian troops plan to drive non-functioning vehicles to occupied Donetsk region
Russian invaders plan to transport non-functioning vehicles to the temporarily occupied territories of Donetsk region.
"As of 18:00 on March 30, Russian troops continue to conduct a full-scale armed aggression against Ukraine. At the same time, some units of the armed forces of the Russian Federation are being partially withdrawn from the territory of Kyiv and Chernihiv regions," the General Staff of the Armed Forces of Ukraine posted on Facebook.
According to the General Staff data, the enemy has significant difficulties in bringing the military equipment removed from long-term storage into a battle. In particular, a significant amount of non-functioning equipment was detected in the 163rd Motor Rifle Regiment of the 150th Motor Rifle Division.
It is noted that the enemy considers a possibility to transport non-functioning vehicles with the help of tractors to the temporarily occupied territories of Donetsk region for further restoration.
At the same time, Russian troops continue to suffer significant personnel losses.
For its part, the self-proclaimed leadership of the Republic of Belarus continues to deny participation in the war against Ukraine, while freely providing its territories for deployment of Russian armed forces, airfield and transport networks, as well as locations for cruise and ballistic missile launchers.
The General Staff notes that, according to international law, an aggressor can be considered "a country that provides its airspace, its territory for launching strikes on a third country."
In addition, the Republic of Belarus provides the Russian invaders with the opportunity to use the network of healthcare facilities in its territory.
On February 24, Russian president Vladimir Putin started a full-scale invasion of Ukraine. Russian troops shell and destroy key infrastructure, massively fire on residential areas of Ukrainian cities, towns, and villages using artillery, MLRS, ballistic missiles, aviation bombs.
ol