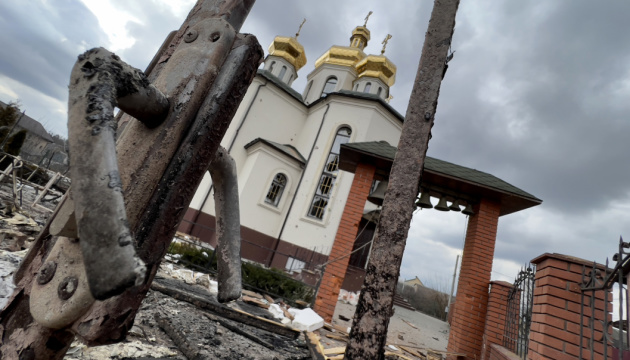 Half of Irpin destroyed, exact death toll unknown – mayor
There is currently no accurate information on the death toll in the Russian military attack on Irpin town, Kyiv region.
"Currently, we have no information [on the death toll] but at a time when there were very intensive hostilities, when there were day and night attacks, people just buried those killed in the yards, in the park. I think that about 200-300 people, unfortunately, died," Irpin Mayor Oleksandr Markushyn said at a briefing when asked about civilian casualties from Russian shelling.
He added that many civilians had died under the rubble of high-rise and private buildings.
"We see that 50% of the town is destroyed... Nobody has cleared the rubble away yet, and there are people under the rubble for sure. Many people left, of course, but many stayed," the mayor added.
According to Markushyn, about 3,500 people now stay in the town of Irpin.
"Unfortunately, 16 guys from our territorial defense units were killed, 29 were hospitalized. As for the Armed Forces, I think that about 50 people were killed, unfortunately, and another 100 were injured," he said.
On February 24, Russian president Vladimir Putin started a full-scale invasion of Ukraine. Russian troops shell and destroy key infrastructure, massively fire on residential areas of Ukrainian cities, towns, and villages using artillery, MLRS, and ballistic missiles.
ol