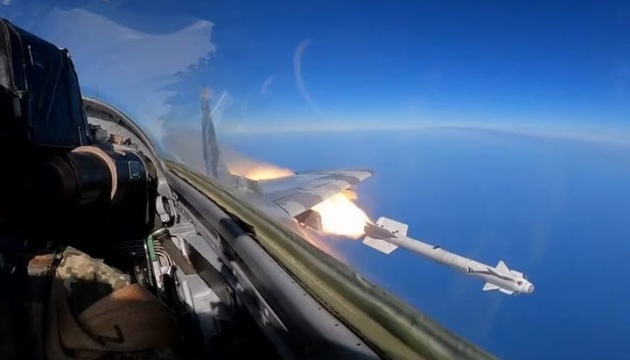 Ukrainian fighter jet shoots down enemy missile in Khmelnytskyi region
A Ukrainian fighter aircraft shot down an enemy missile in the Khmenytskyi region, which Russian troops fired at civilian infrastructure on the night of March 30.
According to Ukrinform, the press service of the Ukrainian Ground Forces said this in a statement posted on Telegram.
"Tonight, a cruise missile fired by the occupiers at civilian infrastructure in the Khmelnytskyi region was shot down by an air-to-air missile from a Ukrainian fighter. Every day since the start of the full-scale war, the Air Force and other units of the defense forces have been shooting down more and more missiles of the Russian fascists, using all available weapons, including MANPADS," the statement said.
Ukrinform reported earlier that Russian forces lost about 17,200 troops from February 24 to March 30. The enemy also lost 605 tanks, 1,723 armored combat vehicles, 305 artillery systems, 96 MLR systems, 54 air defense systems, 131 planes, 131 helicopters, 1,184 vehicles, seven vessels, 75 fuel tank trucks, 81 UAVs of the operational and tactical level, 21 pieces of special equipment, and four mobile SRBM systems.
Photo: Armed Forces of Ukraine