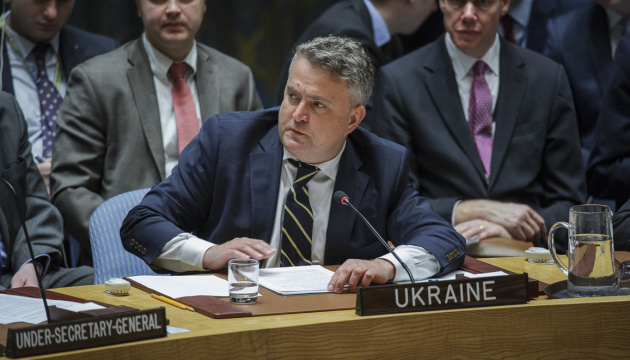 Ukraine's Representative to UN compares Putin to Stalin: He also uses food as weapon against Ukraine
Russian president Vladimir Putin deliberately uses food as a weapon against the Ukrainian people.
"Putin is not the first dictator to use food as a weapon against the Ukrainian people. The ideological apostle of Moscow, Stalin, killed millions of Ukrainians 90 years ago, during the artificially organized Great Famine. Not surprisingly, Putin, who honors Stalin as his ancestor, pursues the same practice," Permanent Representative of Ukraine to the UN Sergiy Kyslytsya said at the Security Council meeting, dedicated to the humanitarian situation in Ukraine, an Ukrinform correspondent reports from New York.
The Russian war, the diplomat said, includes shelling of agricultural infrastructure, contamination of Ukrainian soils, attacks on fuel depots and, consequently, disruption of the sowing campaign.
This weekend, Russian missiles hit fuel depots in Lviv, Dubno, Lutsk, and Rivne, far from the front line. And on Tuesday, Russian troops fired missiles on an agricultural enterprise in Dnipro, which is also far from the combat zone, destroying machinery and equipment. "Perhaps, a representative of the aggressor state could explain what caused this attack – 'demilitarization' or 'denazification'?" Kyslytsya wondered.
According to him, disruptions in food supplies from Ukraine as one of the largest exporters pose a threat to the world. Before the war, Ukraine exported more than 55% of all sunflower oil in the world, more than 55% of Ukrainian wheat came to Asia, and 40% – to African countries.
About 400 million people worldwide, mostly in the Middle East, North Africa, and Asia, are dependent on grain supplies from Ukraine, the Permanent Representative to the UN said.
"The international solidarity with Ukraine and the understanding that the only root cause of the current food crisis is Russia's war against Ukraine will be crucial to success in preventing the worst-case scenario globally," he stressed.
According to Kyslytsya, all Ukrainian seaports are currently blocked by Russia, and some of them are occupied. De-occupation and lifting the blockade could quickly improve the situation as 60% of Ukraine's agricultural products are exported through its seaports, he concluded.
ol