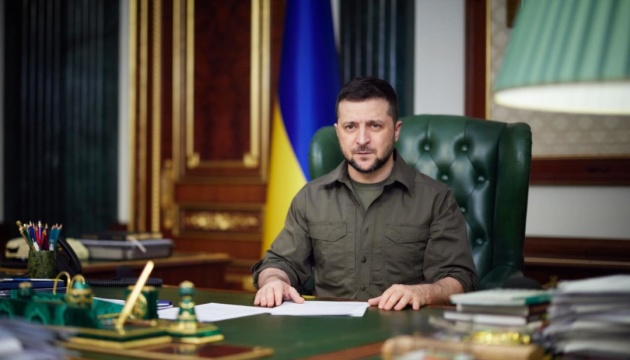 Ukraine will not agree to any 'suspended' packages of sanctions against Russia - President
Ukraine will not agree with the passive position of some entities on the issue of imposing sanctions against the Russian Federation.
President Volodymyr Zelensky said this in his video address, an Ukrinform correspondent reported.
"Ukraine cannot and will not agree with the passive sanctions position of some entities towards Russia. There should be no 'suspended' sanctions packages - that if the Russian troops do something, then there will be some answer," Zelensky said.
He reminded that the similar think took place last year when Ukraine called for severe sanctions against Russia to prevent an invasion. The preventive package was not introduced. A full-scale war has begun.
"There are now many hints and warnings that sanctions will be tightened, such as an embargo on Russian oil supplies to Europe, if Russia uses chemical weapons. There are simply no words. Just think about what it all came down to. Waiting for chemical weapons... We, living people, have to wait… Doesn't everything that the Russian military is doing and has already done deserve an oil embargo? Don't phosphorus bombs deserve that? Do the shelled chemical production or nuclear power plant deserve that?" the president said.
On February 24, Russian President Vladimir Putin announced the beginning of a full-scale invasion of Ukraine. Russian troops have been shelling and destroying key infrastructure facilities, conducting massive shelling of residential areas of Ukrainian cities and villages using artillery, multiple rocket launchers and ballistic missiles.
Martial law was imposed in Ukraine and general mobilization was announced.
Ukraine has officially filed a lawsuit against the Russian Federation with the UN International Court of Justice in The Hague.