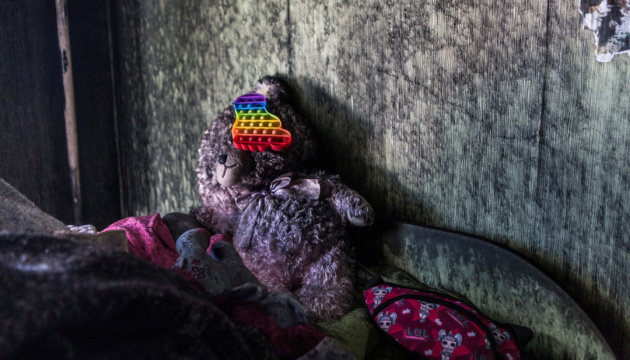 I must start telling stories about children`s fates during the war
This column should have been published at another time with a completely different subject focus.
My articles should have been intended to promote foster care and guardianship I wanted to talk about the happy fate of children with the status of orphans or deprived of parental care, who received new families and a new life. But...On February the 24th, Russian troops began full-scale military operations on the territory of Ukraine. Russian planes began bombing Ukrainian cities, towns and villages.
Today, when 20 days of the war against Ukrainian people have already passed, when hundreds of schools, kindergartens, hospitals and maternity hospitals have been destroyed, when hundred thousand people have been left homeless because thousands of residential buildings have been damaged or fully destroyed when children`s deaths are counted unfortunately not by units and dozens but the number of dead children has exceeded a hundred. I must start telling other stories. Stories about children`s fates during the war, as well as stories of those on whom depend Ukrainian children`s life and fate.
I don't know yet how long I will last. Sometimes the stories are so tragic that it is difficult not only to realise but also to tell them. But I will try.
Evidence of life in the midst of death and death in the midst of life.
At the time when girls dream about their future and the role of a family in her future life, Inna Samorodova decided that she would have three children. Unlike others, she knew definitely that she wanted to give birth to two girls and take another child to her family.
What prompted the girl, who grew up in a two-parent family, to make such decision?
While being a student of Horlivka Institute for Foreign Languages, Inna lived in a dormitory where she witnessed a painful situation. A young girl of her age gave birth to a daughter and abandoned her.
Inna did not understand this act. She talked to her parents and they allowed her to take "patronage" over the child and she continued studying.
Now it is "patronage", which national legislation defines as "voluntary gratuitous activity of the patron to provide a child living in an institution for orphans and children deprived of parental care, another institution for children, with individual support and assistance, primarily in preparing for independent life".
This girl is 25 today. She lives in the USA. She was adopted by an American family. At the same time, Olena (the name of the girl) has a constant connection with Inna`s family and calls Inna "the second mother". "The first mother" she considers the person who devotes her life to her in the US but not the woman who gave her birth.
But how did Inna's life turn out? Fate turned out so that life somewhat changed Inna's imagination about the ideal picture of the world, where two people get married, give birth and raise children together. She divorced her first husband and was left alone with her daughter.
"My financial support allowed adoption. Even in the conditions of a "single-parent family". Single-parent family, but responsible. And my daughter and I were just like that in those days. We respected each other and made important decisions together.
And so, after consulting with my daughter Daiva, who was only 7 years old at that time, I began to realize my dream. I met a girl named Dana whose name is the same rare as my first daughter; I come to love her and decided to adopt her. And then there were 9 months of collecting papers, overcoming obstacles, difficult waiting, etc. Exactly as long as a woman is pregnant. So I "gave birth" to my second child. And a lot could not overcome the bureaucratic system during this period, so to speak, burned out," says Inna.
"Finally, the dream came true. Now it's time to adapt Dana, who was 2 years and 8 months old, to family life. I told her that she used to live in a "children's home." The term I created for my daughter by myself. I don't like the expression "orphanage", as well as such institutions. It is the evidence that there are children in society who were introduced to disaster very early in life – their parents either died, or the people who gave birth to them abandoned them. Therefore, as a mother I told to little Dana that I always wanted not only another daughter, but also that "it happens that children first live in a house for children, and then their mother finds them." She were told about it from the very beginning, that`s why she knew it.
These words were so simply perceived by the child's psyche that at school Dana herself, calmly and painlessly, told that her mother "took" her. This is probably much easier for a child to perceive than "dropping by storks" etc.!
"It was more difficult with simple everyday issues, "Inna continues," because starting life in a large team, and not in a small warm house, the child, no matter how well the teachers treat him, has many household restrictions. For example, Dana, who was used to the fact that in an orphanage the bedroom is used exclusively for group "lights out", for a very long time could not just lie down on the bed during the day, even if she was tired. For the first time in her life, finding herself in a living space that was not limited by the fence of an orphanage, she took quite hard what she did not know – freedom. It turns out that there are really large stores in life. It turns out that there are thousands goodies and toys. And mum says you can even ask to buy them! It was precisely this – the discovery of her own desires – that Dana had to be taught. And also limit the consumption of food "with a supplement", until she becomes to feel bad. Just in case. So as not to get hungry between meals. Like in an orphanage..."
As soon as all this returned to normal and life got better, the year 2014 came. Inna and her daughters lived in Donetsk at that time... The girls moved to the Kiev region, the mother started to work in a kindergarten as a teacher. Exactly in the Kiev region Inna met Yurii, who was able to become a father to her girls, and then, even the youngest, Martin.
Until February the 24th, the family's life was the same as in most Ukrainians – Martin attended kindergarten, Dana studied in the 10th grade and was preparing to enter one of the European universities, because exactly there, in Slovakia, Daiva lives and studies. Inna opened a private kindergarten and thought about creating a foster family.
But on February the 24th a full-scale war between Russia and Ukraine began. I didn't want to believe it, but life repeated the most terrible episodes. The closer the War approached Makarov, the more obvious the fact of leaving home appeared. To safety, to the West. And now the children in the car, the husband at the wheel, moved on…
On the way, Inna kept asking Yuri: "You won't leave us, will you? We will be a happy family together, there in Slovakia".
"Of course," the man replied.
But after taking the woman and her children to the border, he apologized and stayed in Ukraine. To defend his land. Because a happy family may be only here, at home. Millions of Ukrainian children have become victims of the terrible actions that Russia commits against the Ukrainian people: some have lost their homes, some have lost their relatives, more than a hundred children have been killed by Russian bullets and rockets, some have not even had time to take their first breath in their lives and get a name. While the civilized world provides shelter to Ukrainian women and children, provides its homes and maximum support, the Russian army uses prohibited weapons, destroying kindergartens, schools and the civilian population. A whole generation has already been traumatized by the war, and it will take us many years to heal our wounds so that every child has a full and happy life.
The most important both in times of peace and in times of war for any child, there is a family. Family as an environment of security, protection, meaning and possibility of existence. Only in a family, a child finds support to deal with their problems, may be heard and warmed by parental love. The current situation in Ukraine, unfortunately, will increase the number of children who will not have all this, orphaned children. And you and I are to help them! After the end of the war, Ukrainian children who will have the status of orphaned children can be adopted and given their own home and family forever. In the meantime, the urgent task is to find for all children the safest and most convenient place for a temporary stay without violating legal procedures in the interests of the child.
Inna's family, like millions of others, is waiting for peace. Peace and family are what children need, but not destroyed schools, hospitals, kindergartens, and single-parent families.
Daria Неrasymchuk, Аdviser-Commissioner to the President of Ukraine for the rights of the child and children's rehabilitation