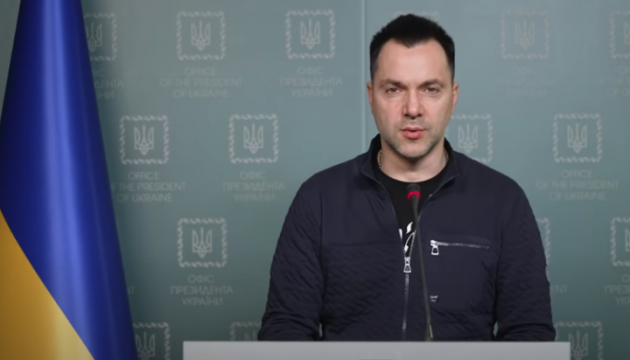 Situation in eastern Ukraine may deteriorate in coming weeks - Arestovych
The situation in eastern Ukraine may deteriorate in the coming weeks, according to Oleksiy Arestovych, a freelance adviser to the head of the President's Office.
He said this at a briefing on Sunday, Ukrinform reports.
According to Arestovych, after the official order issued by the Russian Defense Ministry to transfer combat efforts to the east of Ukraine, enemy troops are trying to surround Ukrainian forces in the JFO area, "finish" Mariupol and retain the defense in Kherson - southern Ukraine. At the same time, Arestovych noted that if the Ukrainian army repels the enemy defense in the south, then the position of Russian forces the area of Mariupol would significantly worsen.
"They understand this. They do it. They have officially stated this. This means the next thing. On the one hand, it gives us hope in the area of Kyiv, Chernihiv, Sumy region, Kharkiv region that we will get rid of the enemy there, we will repel it from there. Secondly, it means a possible, potential deterioration or a sharp deterioration of the situation around Mariupol and in the JFO area," he said.
He assured that the military and political leadership of Ukraine, as well as the leadership of the Ukrainian Defense Forces understand the situation and take all necessary measures to resist the enemy.
"But I want to say that the next week or two will be uneven. There will be reports that we are winning, counterattacking and repelling in some areas. We are liberating our lands from the enemy. However, there will also be information that in some parts of the front, particularly in the east, the situation is complicated. You need to be emotionally, organizationally and consciously ready for this," Arestovych said.
iy