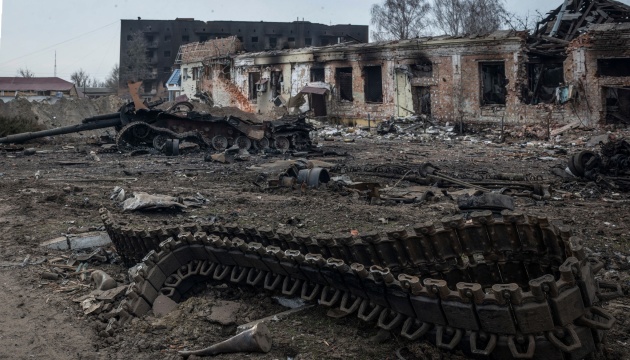 Russians plant mines in hospital before retreating from Trostianets
In Trostianets, Sumy region, earlier liberated by the Ukrainian forces, major infrastructural damage is reported, while the local hospital is said to have been mined by the retreating occupiers.
This was reported by First Deputy Head of the Regional Military Administration Taras Savchenko, who arrived in the city along with a humanitarian convoy, Ukrinform wrote.
"We saw huge destruction. We saw dozens of vehicles burnt down, both civilian and military. There's complete absence of any communications, power, and water ... The situation is terrible. In recent days, the hospital remained under fire. It has also been mined," the official told.
Savchenko added that a military demining team is currently working at the scene.
The humanitarian convoy deployed in Trostianets has brought foodstuffs, baby food, children's development and hygiene products, as well as essential medicines.
Two ambulances have joined the convoy. According to Savchenko, two wounded locals have already been evacuated to Sumy.
The official also noted that there is no exact data on casualties as long as communications are down.
It is well known that some of the wounded had been taken to Poltava region... Some of the wounded remain... at home or at their relatives'. Tomorrow there will be another humanitarian cargo, including additional ambulances, and this way we will evacuate the wounded to Sumy, as well as to Okhtyrka and nearby settlements, where they can get qualified treatment," said the official.
As reported earlier, on March 26, the 93rd Brigade liberated the town of Trostianets, Sumy region, from Russian invaders.