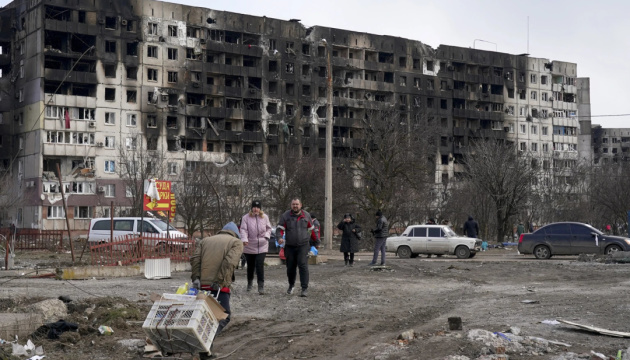 Azov Detachment: Situation in Mariupol very challenging but controlled
Currently, the situation in the city of Mariupol is very challenging but controlled. Sooner or later, the city will be deblocked.
The relevant statement was made by Azov Detachment Commander, Hero of Ukraine Denys Prokopenko in an interview with Dmytro Gordon, an Ukrinform correspondent reports.
"Currently, the situation in Mariupol is very challenging but controlled… We will keep it to the last. We believe and we know that the city will be deblocked sooner or later. I do not want to disclose many military secrets now. Let it remain classified as 'secret'. The top military and political leadership is working on this. This operation will definitely be successful, and we will withstand," Prokopenko told.
In his words, Azov's defenders are tirelessly burning enemy tanks and destroying enemy infantry units, whose offensive pace is fading every day.
"The enemy is attempting to bring new reserves into battle, but their attacks are continuously repelled by our units. They are massively surrendering and not willing to move forward. They are cold, hungry, naked, barefoot, and have no desire to fight," Propokenko noted.
According to Prokopenko, despite the superior enemy forces, Azov Detachment is conducting successful operations, launching counterattacks and imposing their initiative to worsen the enemy's condition.
"Despite the fact that street battles have been raging for two weeks now, we are trying to fully control the situation and keeping everything under control. Every day we send more and more occupiers, who are making attempts to capture houses and streets, to hell. We are pushing them back. And Mariupol will be Ukrainian-controlled," Prokopenko stressed.
A reminder that the Russian aggression has caused a horrible humanitarian disaster in Mariupol. Russian invaders are bombarding unarmed civilians and blocking humanitarian aid.
Photo: Stringer, Anadolu Agency
mk