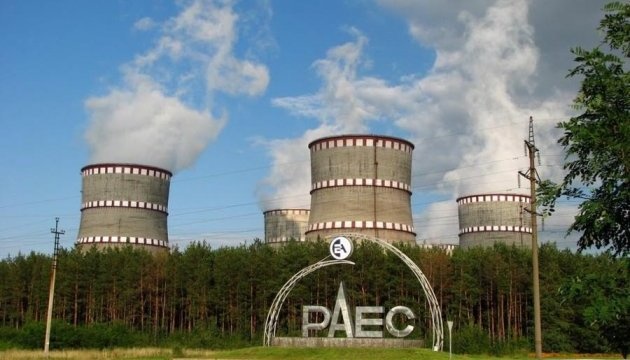 Rosatom's employees at Rivne NPP: We are afraid of returning to Russia
Four employees of Russia's Rosatom, who accompanied cargo with radioactive fuel elements intended for Rivne Nuclear Power Plant (NPP) in February 2022 and are now staying in Ukraine, have told they do not want to return to the Russian Federation.
The relevant statement was made by Energoatom National Nuclear Energy Generating Company of Ukraine, an Ukrinform correspondent reports.
"Since the war in Ukraine started, we have seen the horrors committed by our compatriots. They are killing children, mothers, Ukrainian citizens. Here we saw the whole truth… We do not want to take part in this and be related to this. After everything we have seen, we are afraid of going back," Rosatom's employees told.
They do not understand how Russian officers could give an order to bombard nuclear power plants.
"The consequences could be dire and lead to a nuclear disaster. We do not understand why they are shelling Chornobyl NPP and Zaporizhzhia NPP," Rosatom's employees noted.
They also refuted the fakes spread by the Russian Federation, which is trying to persuade the International Atomic Energy Agency (IAEA) that Rosatom's employees were forced to stay at Rivne NPP.
"We have been staying within the territory of Ukraine since February 22, 2022. We came by rail, delivered an important cargo, radioactive fuel for Rivne NPP. On March 17, 2022, we fully unloaded it and transferred to the plant. On March 17, 2022, we fully completed our tasks following the instructions and agreement. We do not have any claims against the host party. We have had good working conditions," Rosatom's employees stressed.
A reminder that Energoatom National Nuclear Energy Generating Company of Ukraine refuted information about holding four Russian power engineers hostage at Rivne NPP.
According to the Ukrainian Foreign Affairs Ministry, four armed citizens of the Russian Federation, who accompanied and guarded nuclear fuel elements until they were fully unloaded according to the contractual terms, left the site of Rivne NPP on March 23, 2022. Now they are staying in a hotel.
The ministry noted that, if Russian citizens change their plans, the Ukrainian side is ready to help them return to the territory of the Russian Federation according to the current procedures.
mk