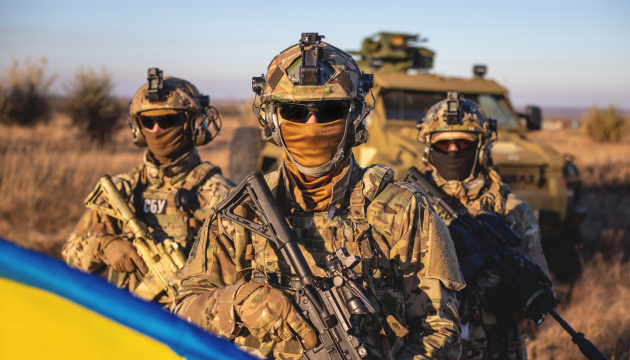 SBU detains more than 350 saboteurs since war-start
Since the launch of a full-scale Russian invasion, the Security Service of Ukraine (SBU) has liquidated more than 20 sabotage and reconnaissance groups and detained more than 350 of their members.
The SBU has announced this on Facebook on the day of the agency's professional holiday, Ukrinform reports.
The SBU has been also massively exposing enemy intelligence assets, and as part of multi-stage special operations the attempts by enemy military intelligence to smuggle militants from the Middle East to Ukraine were neutralized.
"These are just some examples of the results achieved since the beginning of the war. And these are the result of the coordinated efforts by many SBU operatives, who work diligently and in harmoniously in extremely difficult wartime conditions – as a single team. Today, many of our colleagues are up in arms annihilating the enemy on the battlefield. But no less important is the fight against reconnaissance and sabotage efforts. And now we are improving the experience that the Security Service has gained over 30 years of its existence, and we are doing everything to ensure that all the capabilities of the special services contribute as effectively as possible to the country's security," SBU Chairman Ivan Bakanov said on the agency's 30th anniversary.
A Russian armed sabotage group was eliminated in Kyiv. It had been disguised as a Ukrainian Territorial Defense unit.
More than 10 human assets of Russian special services, involved in aiding the invaders and complicit in war crimes in the temporarily occupied territory of Luhansk region were exposed.
Members of Russian intelligence networks, involved in gathering intelligence on electronic warfare and unmanned aerial vehicles of Ukrainian military units were detained.
Attempts by the Russian intelligence to proceed with the so-called "federalization" of Zaporizhia region were neutralized. The enemies tried to realize their plans through planting their agents into the local governments in the area.
Also, since the beginning of Russia's full-scale aggression, the main transnational channels for recruiting mercenaries for the war against Ukraine have been eliminated.
A separate area of ​​the SBU's work is drafting proposals for sanctions against foreign individuals and entities to be considered by the National Security and Defense Council.
The relevant proposals were filed as regard members of the Russian Federal Security Council, the Federation Council of the Federal Assembly, and deputies of the Russian State Duma.
A total of 89 Youtube channels run by the Russian media and Kremlin propagandists were blocked over their propaganda and subversive activity. Thousands of social media accounts have also been blocked, through which hostile agents spread disinformation or transmitted data on the deployment and movement of Ukrainian troops.