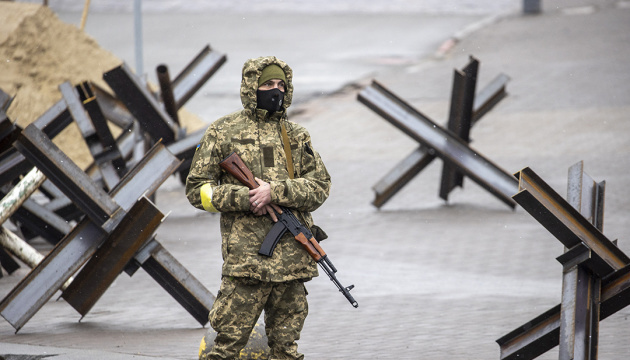 Ukraine Army destroys Russian strongpoint near Kyiv, killing 40 invaders
Ukrainian defenders have pushed back the enemy troops near the city of Kyiv, killing 40 Russian invaders.
The relevant statement was made by Head of Kyiv Territorial Defense Forces Petro Kuzyk during a telethon, an Ukrinform correspondent reports.
"Some success has been achieved around Kyiv. The enemy has been pushed farther away. On the left bank, yesterday, near Baryshivka, there was a successful attack on settlements, namely Lukianivka. It was liberated completely. It served as the so-called strongpoint for the occupiers. There were several hundreds of soldiers, tanks and equipment. The equipment was burned, tanks were damaged, and some vehicles were taken as a trophy. Sadly, just 40 occupiers were killed, according to the data confirmed. The rest of them fled; some of them hid in the woods. Now our military are looking for them," Kuzyk told.
Kuzyk also confirmed that the Ukrainian Army now has more tanks than it did at the beginning of the war. Some tanks are captured during battles. Some tanks are left undamaged on the battlefield by Russian invaders, when Ukrainian special operation forces or partisans cut them off fuel supplies.
"The Ukrainian military take them, repair and use to defend Ukraine. This refers to any vehicles, such as Urals, tanks, infantry fighting vehicles and others," Kuzyk noted.
A reminder that, on February 24, 2022, Russian President Vladimir Putin initiated a full-scale invasion of Ukraine, starting a war. Russian troops are shelling and destroying the key infrastructure facilities, launching missile strikes on Ukrainian cities and villages, killing civilians.
mk