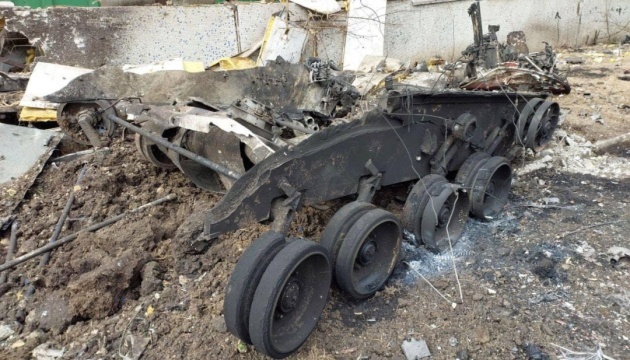 Azov fighters destroy four enemy armored personnel carriers in Mariupol over two days
Over the past two days, fighters of the Azov Regiment in Mariupol destroyed four enemy armored personnel carriers and other equipment.
"In Mariupol, every day is a day of death, a day of the heroic struggle of our military against the overwhelming forces of the enemy... Even staying in the full encirclement, the Azov fighters destroyed four armored personnel carriers, other equipment, enemy infantry, took a prisoner, saving his health and life, over the past two days," Deputy Commander of the Azov Regiment a.k.a. Kalyna posted on Telegram, Ukrinform reports.
He stressed that Ukraine is fighting according to the laws of war, while Russia uses heavy bombs, causing huge destruction. In addition, according to him, there is information about the possible use of chemical weapons by Russia in Mariupol as was the case in Syria.
"These barbarians capture ordinary people and forcibly take them to Russia, depriving them of documents, send them to the northern and eastern regions of the aggressor country. Doesn't that remind you of the concentration camps of Hitler's Germany or the Gulag camp of the Stalinist regime?" the Deputy Commander of the Azov regiment emphasized.
On March 24, the Azov Regiment told about the destruction of an enemy armoured combat vehicle and three trucks.
As reported, Russian troops caused a terrible humanitarian catastrophe in Mariupol. The invaders bomb unarmed residents and block the delivery of humanitarian aid. In addition to tanks and artillery, the town is shelled from Russian landing ships.
Photo: Ministry of Internal Affairs
ol