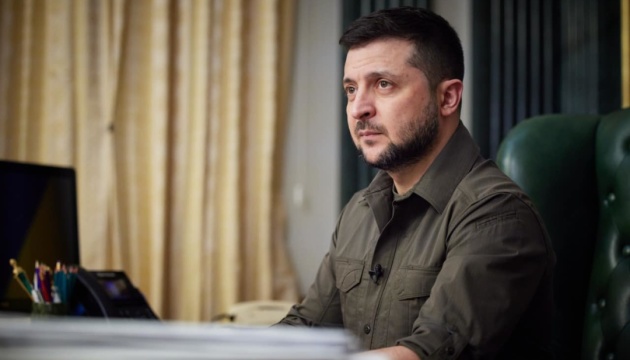 Zelensky calls on G7 countries to disconnect Russia from GPS and block all banks
President Volodymyr Zelensky has called on the Group of Seven countries to impose a full embargo on trade with the Russian Federation, completely block all Russian banks and deprive Russia of the opportunity to use GPS in war.
President Zelensky said this in a video address to world leaders, this time during the G7 leaders' meeting, an Ukrinform correspondent reported.
"It is better now to tighten sanctions against Russia as much as necessary to stop its military machine than to deal with the consequences of the food and political security global crisis. Unprecedented challenges! If so, a full embargo on trade with Russia is needed. It is necessary to deprive Russia of the opportunity to use GPS in war. It is very important. So that this system does not help Russian missiles and bombs destroy peaceful cities," he said.
Zelensky added that Russian banks and, most importantly, the Central Bank of Russia must be fully blocked from the global financial system.
"War criminals should be left without money at all! And their frozen assets should turn, inter alia, into reparations for the reconstruction of Ukraine," he stressed.
The President is convinced that peace is needed immediately before the world faces an even greater level of problems, and action must be taken immediately.
"Russia has destroyed the global security architecture and dealt a powerful blow to international relations. But this is just the beginning. This war may be followed by a global food crisis. The longer there is no peace on Ukrainian land, the less food the world market will receive from Ukraine. Consequently, many countries in Asia, Africa, and even Europe, may have extraordinary problems with access to basic products, with food prices. This will definitely result in political destabilization," he said.
As reported, on February 24, Russian President Vladimir Putin announced the beginning of a full-scale invasion of Ukraine. Russian troops have been shelling and destroying key infrastructure facilities, conducting massive shelling of residential areas of Ukrainian cities and villages using artillery, multiple rocket launchers and ballistic missiles.
Martial law was imposed in Ukraine and general mobilization was announced.
iy