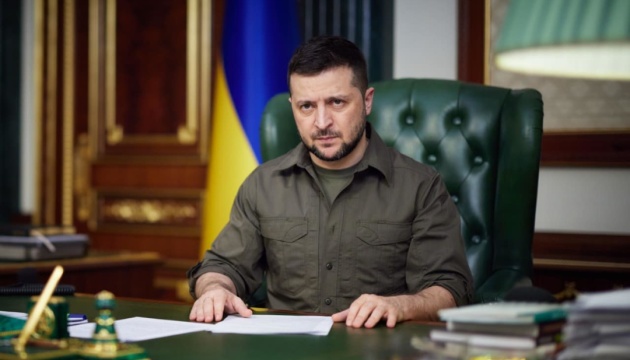 Zelensky: It will take years after Russia's withdrawal to assess damage inflicted to Chornobyl NPP
It will take years after Russian troops leave Ukraine to investigate the damage they have done to the Chornobyl nuclear power plant and the entire exclusion zone they use to attack Ukrainian defense forces.
"It will take years after Russian troops leave Ukraine to investigate the damage they have done to Chornobyl. What sites of radioactive materials disposal were damaged. And how radioactive dust spread on the planet," Zelensky said in his video address to Japan's Parliament, streamed live on Ukraine's nationwide telethon, Ukrinform reports.
The President reminded that thousands of tonnes of contaminated materials had been disposed of in the entire 30-kilometer exclusion zone after the Chornobyl disaster. On February 24, Russian armored vehicles passed through this land, lifting radioactive dust into the air.
He stressed that Russia had turned the Chornobyl NPP into an arena of war as well and used the 30-kilometer territory to prepare new attacks against Ukrainian defense forces.
There are four operating nuclear power plants in Ukraine, constituting 15 nuclear units, and all of them are under threat now, Zelensky underscored.
Russian troops have already fired from tanks at the Zaporizhzhia nuclear power plant, the largest in Europe, the President added.
Moreover, Zelensky stressed that Russia by waging the war had already damaged hundreds of plants, many of them particularly dangerous. The shelling threatens gas and oil pipelines, coal mines. The other day, Russian troops fired on a chemical plant in Sumy region causing the ammonia leak.
"We are warned about possible chemical attacks, in particular with the use of sarin. As it was in Syria. And one of the main topics for discussion of world politicians is the question: how to react if Russia also uses nuclear weapons. Any confidence of any person in the world, any country is completely destroyed," the President of Ukraine said.
As reported, Russian troops seized the Chornobyl NPP on February 24.
On March 20, the Chornobyl NPP staff was partially rotated and people, who had stayed in the territory of the plant temporarily occupied by Russian troops, were evacuated.
Russian invaders looted and destroyed the cutting-edge Central Analytical Laboratory, worth EUR 6 billion, located in the exclusion zone.
ol