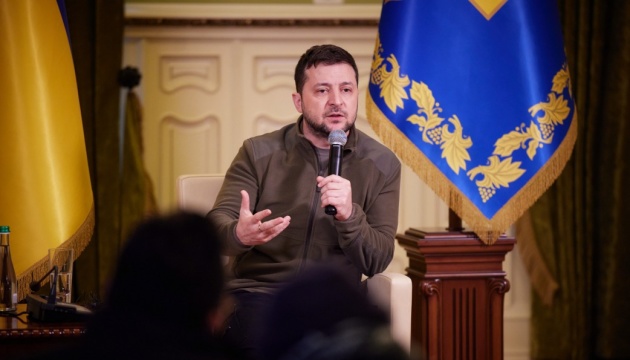 Relations between neighboring states should be based on mirror respect - Zelensky
President Volodymyr Zelensky stressed that relations between Ukraine and neighboring nations should be based on mirror respect.
The Ukrainian leader addressed the issue in an interview with a number of public broadcasters, an Ukrinform correspondent reports.
The head of state noted the points that are regularly subject to discussion among neighboring states. In particular, it's minority language of command in schools.
"They say they (a community - ed.) had a school. They spoke, say, Hungarian and Russian. We have many of them, we have many neighbors. As for mirror relations, mirror respect, that's what we're talking about. I believe this is normal. If some community wants to have a school in Ukraine, it should be aware that the same school, for Ukraine, will be set up in their country's capital," the president said.
He stressed the importance of building neighborly relations on mirror respect. Zelensky clarified that it is not only about Russia, but all states bordering Ukraine.
It was reported that Ukraine is home to more than a hundred ethnic groups.
Photo: Office of the President of Ukraine