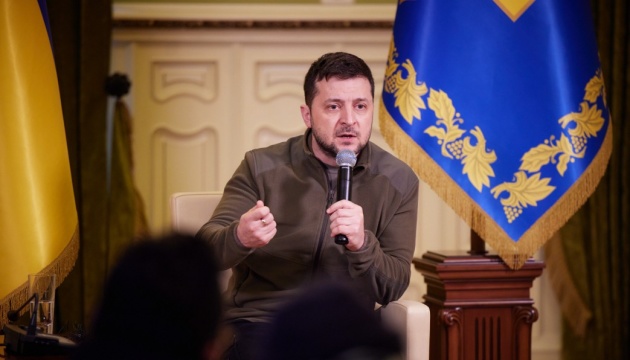 Zelensky: Ukraine won't be able to fulfill Russia's ultimatum
Ukraine will not be able to fulfill the ultimatum put forward by the Russian Federation as its fulfillment would require the complete annihilation of the Ukrainian people.
President of Ukraine Volodymyr Zelensky said this in an interview with the European media, an excerpt from which was published by Suspilne media outlet, Ukrinform reports.
"Ukraine will not be able to fulfill the ultimatum. We will not be able to do it physically. How can this be done? We must all be annihilated – then their ultimatum will be fulfilled automatically. For example, they say, 'give us Kharkiv, give us Mariupol, give us Kyiv'. Neither the residents of Kharkiv, nor the residents of Mariupol, nor the residents of Kyiv, nor the President will be able to do that. We see this even in the occupied towns.
In Melitopol, Berdyansk, in this direction. When they [Russian troops] enter, people do not give up. They [Russian troops] raise a [Russian] flag, people take it down. They [Russian troops] killed a man. Yes, people hid, but they came back at night and took down the flag again. What do you want? To kill us all? We can fulfill the ultimatum only when we pass away," the President stressed.
He added that the ultimatums would not bring any results to the Russian Federation in the war with Ukraine.
On February 24, Russian president Vladimir Putin announced the beginning of a large-scale invasion of Ukraine. Russian troops fire on and destroy key infrastructure facilities, missiles hit residential buildings. Martial law was imposed in Ukraine and general mobilization was announced.
ol