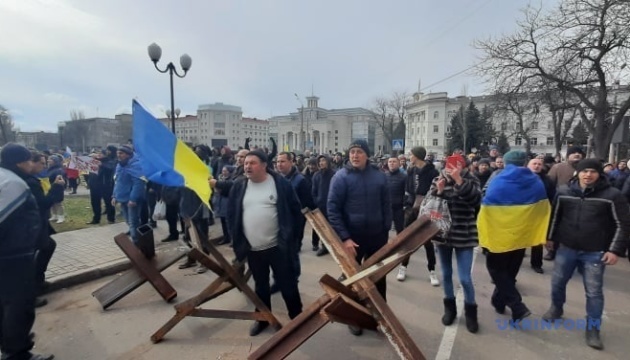 Russian troops use force at peaceful rally in Kherson, injuring protesters
At a peaceful rally in Kherson, the Russian military used force against people protesting against Russian aggression and injured some of them.
According to Ukrinform, Yuriy Sobolevsky, first deputy chairman of the Kherson Regional Council, announced this on Facebook.
"Today, the orcs used violence against a peaceful rally in Kherson. There are victims," Sobolevsky said.
Rallies against the Russian occupiers are held on Freedom Square in Kherson every day.
On February 24, Russian President Putin announced the beginning of the invasion of Ukraine. Russian troops have been shelling and destroying key infrastructure, residential areas of Ukrainian cities and villages using artillery, multiple rocket launchers and ballistic missiles.
Martial law was imposed in Ukraine and general mobilization was announced.