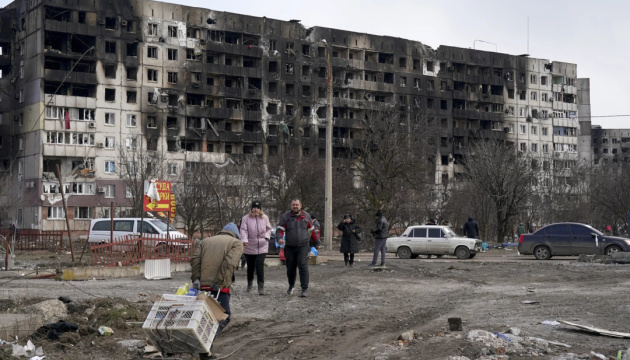 Ukraine snubs Russia's ultimatum to surrender Mariupol
Ukraine has rejected a Russian ultimatum to surrender the strategic port city Mariupol on coast of the Sea of Azov
This was announced by Deputy Prime Minister, Minister for Reintegration of the Temporarily Occupied Territories Iryna Vereshchuk in a comment to Ukrainian Pravda, Ukrinform reports.
According to the official, the Russian Ministry of Defense has sent an official letter to Ukraine, issuing an ultimatum: Ukrainian defenders must lay down their weapons and withdraw from Mariupol, and only under such conditions will the evacuation of civilians be possible.
"There are eight pages of revisiting history and other delusional things. They have sent the same letter to the UN and the International Committee of the Red Cross (ICRC) and hoped that international organizations would react and start exerting pressure on Ukraine. This didn't happen. ICRC and UN understand that this is Russian manipulation, and that this is hostage-taking," Vereshchuk said.
She stressed that Ukraine insists on the immediate opening by Russian troops of a green corridor for evacuating civilians.
"There can be no question of surrendering or laying down weapons. We have already informed the Russian side about this. I wrote:" Instead of wasting time on eight-page letters, just open the corridor," said the deputy prime minister.
According to the official, the Ukrainian side informed the UN and the International Committee of the Red Cross.
Vereshchuk also noted that Russia's demands are a deliberate manipulation and a "real hostage-taking."
At the same time, the official expressed indignation that the Russian invaders resorted to abducting and deporting Ukrainians from Mariupol to Russia. According to her, there are facts where children are abducted from orphanages. "They are going to forcibly take 350 children to Russia without letting us pick them up... We ask clearly to give us a corridor and we tell them which boarding school we are going to, and why. Then they're immediately taking those children to Russia. This is terrorism," said Vereshchuk.
As Ukrinform reported earlier, Russian troops have caused a major humanitarian catastrophe in Mariupol. The invaders are bombing unarmed residents and blocking humanitarian aid from being delivered to the city.
According to the deputy commander of the Azov Regiment, Russian bombs fall every 10 minutes. In addition to tanks and artillery, Russian landing ships started shelling the city.
According to the Mariupol City Council, some residents of the Left Bank district of Mariupol are forcibly deported to Russia, with their passports being confiscated.