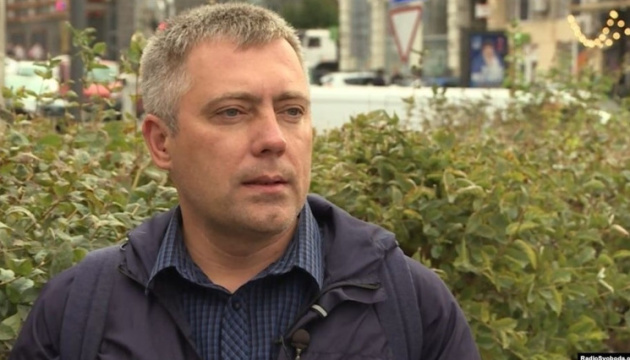 Russian invaders release Kakhovka journalist Oleh Baturin
Russian invaders have released Kakhovka journalist Oleh Baturin, whose fate has been unknown since March 12.
"The occupiers released journalist Oleh Baturin. I talked to him, I was very glad to hear the voice of my friend," journalist Ivan Antypenko wrote on Facebook.
Oleh Baturin himself shared information about what happened to him through his sister's Facebook page.
"I've lost a lot of weight. I'm very dirty. Tired. At 17:00 on March 12, I was captured at the Kakhovka bus station. I was beaten. Humiliated. Threatened. They said they would kill me. Almost eight days. 187 hours of captivity. Virtually no food. Some days almost without water. No soap, no change of clothes. Not understanding where I am. But they clearly knew why. They wanted to break me, squelch me. To show what will happen to every journalist: you will be deprived. You will be killed," Baturin wrote.
He noted that he had the opportunity to go abroad or to a big city. But he wanted to prove with his life that it is possible to live in a small town and try to make it better with all his actions.
"Yes, Kakhovka is not an ideal city, but it is my hometown. I love it a lot. Here live my friends who share my values, here live my relatives, here live many people I am proud of. My heart is forever with you," Baturin stressed.
As reported, an acquaintance called Oleh at about 16:00 on March 12 and offered to meet him near the bus station near the journalist's house.
At about 16:30 pm, Oleh went to a meeting, leaving his phone and documents at home, and promised to return in 20 minutes. But did not return.
According to local chats, the Russian military were spotted near the bus station at about 16:50.
On February 24, Russian president Putin announced the beginning of the invasion of Ukraine. Russian troops shell and destroy key infrastructure, massively fire on residential areas of Ukrainian cities, towns, and villages using artillery, multiple launch rocket systems, and ballistic missiles.
Martial law was imposed in Ukraine and general mobilization was announced.
ol