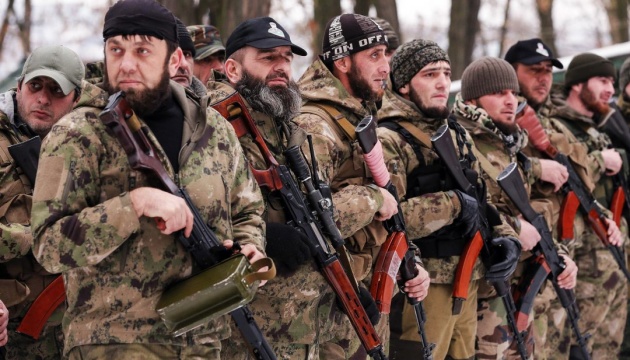 After losing hundreds of fighters, Kadyrov's Chechen forces return home from Ukraine - media
During their Ukraine deployment Ramzan Kadyrov's Chechen units are believed to have lost hundreds of soldiers before eventually returning to Grozny on March 13.
This was reported by Radio Svoboda with reference to the SBU counterintelligence agency, Ukrinform reports.
On March 13, pro-Russian Telegram channels published a video of a military meeting with the participation of Chechen leader Ramzan Kadyrov, purportedly shot in the basement somewhere in Ukraine, "a few kilometers from Kyiv."
However, SBU counterintelligence operative have denied the report, confirming that Ramzan Kadyrov never came to Ukraine since Russia invaded, while on March 13, his Chechen units were rotated out of Ukraine to Chechnia, via Belarus.
"On February 26, some 450 Kadyrov's fighters tried to set their boots on the Ukrainian land outside the Hostomel airport near Kyiv, in an attempted landing operation. This didn't work out. Some of the forces did manage to disembark from one of the planes and immediately got under fire on the runway. The total death toll of Kadyrov's units as of February 28 amounted to several hundred,"an interlocutor in the SBU counterintelligence told Radio Svoboda.
On March 4, a detachment of about 1,200 ethnic Chechen national guardsmen arrived from Belarus via the Chornobyl exclusion zone. These included Battalion North (commander Magomed Tushayev, later killed in action), South (Hussein Mezhidov), and Akhmat-Grozny riot police unit (Anzor Bisayev). Kadyrov's units set up their camp in the woods outside the settlement of Borodianka near Kyiv. According to the SBU, one night the ammunition stock got blown up in the camp, killing a number of fighters on the spot.
"Since then, they have been more cautious and have split into several groups. However, they took no direct part in the battles, only being engaged in harassing the locals in the area of ​​Borodianka, Babyntsi, Katiuzhanka, and up to Liutizh, while at the same time shooting videos for social media," said the SBU counterintelligence.
According to the Verkhovna Rada Commissioner for Human Rights, Liudmyla Denisova, it was a Kadyrov's unit who seized a psychiatric facility in Borodianka, with 600 patients and staff in it.
"We see that they have been present on the territory of Ukraine since the beginning of conflict, but as a result, we have never seen their participation in firefights. As we call them, these are 'PR troops.' That is, they might make plenty of videos and photos, showing them walking around wielding rifles, raiding households, as well as allegedly distributing humanitarian aid and 'caring for civilians.' But this is pretty much all their activity that we've seen throughout this time," Ruslan Leviev, founder of the Conflict Intelligence Team, told Current Time.
Finally, the SBU says, on March 13, Kadyrov's units were extracted from Kyiv region out of Ukraine, via Belarus and further by air – to Chechnya. At the same time, Ramzan Kadyrov recently claimed he was sending to Ukraine a thousand more fighters.