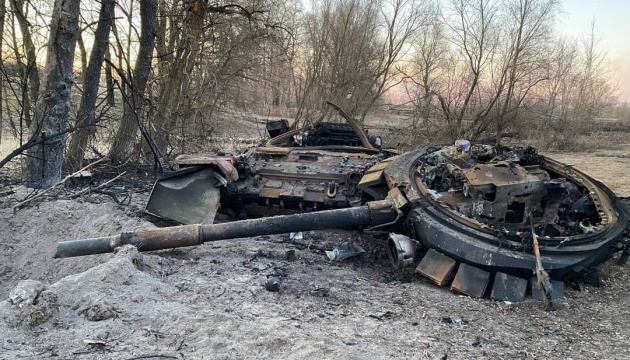 Ukrainian military carry out several counterattacks over past day
On March 19, the Ukrainian military carried out several counterattacks, inflicting losses on Russian invaders in equipment and personnel.
"The Azov Regiment counterattacked in Mariupol today [March 19], eliminating up to 50 Russian soldiers, several units of Russian military equipment. In fact, the town is holding on, the town is fighting," Adviser to Ukraine's Minister of Internal Affairs Vadym Denysenko said on the air of the nationwide telethon, Ukrinform reports.
He added that the Ukrainian military had also launched a counterattack in Zaporizhzhia direction.
"Up to 60 Russians were killed, several units of equipment were destroyed. I would also like to mention the Belarusian direction. Belarusian guerrillas helped us by actually disabling the railway towards Ukraine," said the adviser.
Thus, he added, "it is currently impossible to reach Ukraine by rail from Belarus, which would complicate logistics for the Russian Federation."
On February 24, Russian president Putin announced the beginning of the invasion of Ukraine. Russian troops shell and destroy key infrastructure, massively fire on residential areas of Ukrainian cities, towns, and villages using artillery, multiple launch rocket systems, and ballistic missiles.
ol