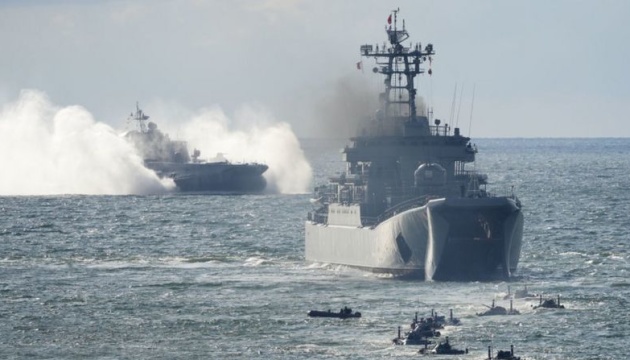 Russia mines sea routes from Bosphorus to Odesa, blames Ukraine - media
Russia has planted mines along the recommended commercial sea routes stretching from the Bosphorus Strait to the Odesa and simultaneously alleged that those were "Ukrainian" mines.
Andrii Klymenko, editor-in-chief of the BlackSeaNews portal and co-founder of the Black Sea Institute for Strategic Studies, reported the news on Facebook, according to Ukrinform.
"The real danger at sea: Russia has mined the recommended routes from the Bosphorus to Odesa and said that these are Ukrainian mines. Another dangerous misinformation by the enemy," Klymenko said.
The expert clarified that the port of Sochi issued a warning on March 18, addressing ship owners and captains in the region about the threat of 'Ukrainian Navy mines drifting in the Black Sea'.
In particular, the document signed by Sochi Port Captain Vyacheslav Rumyantsev reads: "According to the hydrographic service of the Black Sea Fleet, moored naval mines of the Ukrainian Navy close to the ports of Odesa, Ochakiv, Chornomorsk, Pivdennyi have drifted away amid storm."
Furthermore, the notice for 'all shipowners and captains" recommends that they take special precautions when sailing in the southwestern and northwestern parts of the Black Sea due to the possibility of drifting mines setting off.
In Klymenko's opinion, this warning is aimed at preventing commercial maritime traffic in the Black Sea and requires immediate deployment into the Black Sea of the NATO Permanent Mine and Trawler Group.
He also noted that 'it is impossible to count the number of mines drifting in the stormy sea on principle as only those who planted them can do so.
On February 27, Turkey closed the Bosphorus and the Dardanelles to Russian warships. Sanctions bar the ships of the Russian Pacific, Black Sea, and Baltic Fleets from entering the Black Sea.
On February 24, Russian President Vladimir Putin announced the beginning of a full-scale invasion of Ukraine. Russian troops are shelling and destroying key infrastructure, conducting massive shelling of residential areas of Ukrainian cities and villages using artillery, rockets, and ballistic missiles.
Martial law was imposed in Ukraine and general mobilization was announced.