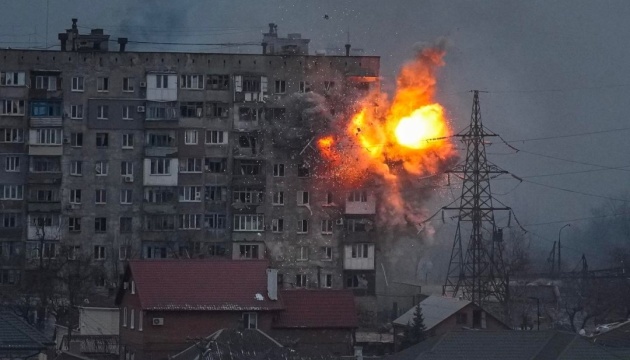 Russian troops destroy 90% of Mariupol town
Russian troops have already destroyed 90% of Mariupol and killed thousands of town residents.
"Thousands killed by Russian invaders! 90% of the town was destroyed in attacks launched by Putin's soldiers. Russians hold Mariupol residents hostage by blocking humanitarian corridors. There is no electricity, gas or heat in the town," the Ministry of Defense of Ukraine posted on Facebook.
There is only continuous grief, fire, endless shelling from all kinds of fascist weapons, the Ministry adds.
Moreover, a missile strike by Russian invaders completely destroyed residential buildings in Kalynivka (Kyiv region). One woman was killed, a man was never found under the ruins.
"This is just one of the testimonies of numerous Russian fascist war crimes against civilians for which they will be held accountable in The Hague. We will take revenge on everyone killed and maimed: the enemy will be punished either in our territory or at the International Criminal Court," the Defense Ministry posted.
On February 24, Russian president Putin announced the beginning of a large-scale invasion of Ukraine. Russian troops shell and destroy infrastructure, massively fire on residential areas of Ukrainian cities and villages using artillery, multiple launch rocket systems, and ballistic missiles.
Martial law was imposed in Ukraine, and general mobilization was announced.
ol