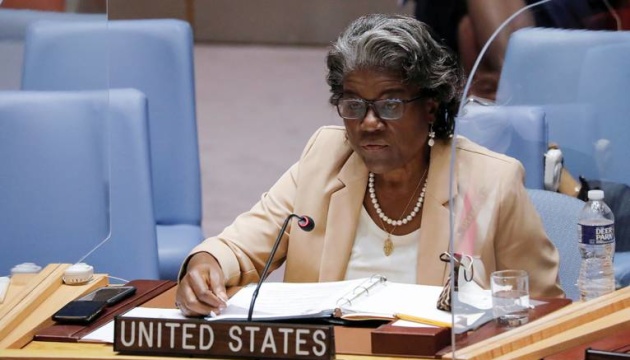 US at UN: Russia will be held accountable for its atrocities against Ukraine
The Russian Federation, led by Putin, will be held accountable for the killings and other atrocities committed by its military in Ukraine.
"Russia will be held accountable for its atrocities. There is only one way – one way – to end this madness. President Putin: Stop the killing. Withdraw your forces. Leave Ukraine once and for all," Ambassador Linda Thomas-Greenfield, U.S. Representative to the United Nations, said at the UN Security Council meeting.
She stressed that the day before the UN International Court of Justice had ordered the Russian Federation to stop invading Ukraine. Russia, however, continues to openly violate international law, Ukraine's sovereignty and territorial integrity.
"Russia's brutal tactics have killed civilians, medics, and some of the journalists who have been showing us all the truth of this war. Russia has attacked so much of what we hold sacred and everything – everything – the United Nations stands for. Russia's actions must be condemned in no uncertain terms," the U.S. Representative to the United Nations said.
The diplomat reiterated the statement by U.S. President Biden who said that Ukraine would never be a victory for Putin.
"No matter what advances he makes, no matter whom he kills or what cities he destroys, Ukraine will never be a victory for him. The United States stands with Ukraine and the Ukrainian people, and we will do everything – everything – in our power to end this tragic unnecessary war," Thomas-Greenfield stressed.
As reported, an emergency meeting of the UN Security Council was held on Thursday to discuss the challenges of the large-scale humanitarian crisis caused by the Russian war against Ukraine.
On February 24, Russian president Putin announced the beginning of a large-scale invasion of Ukraine. Russian troops shell and destroy infrastructure, massively fire on residential areas of Ukrainian cities and villages using artillery, multiple launch rocket systems, and ballistic missiles.
Martial law was imposed in Ukraine, and general mobilization was announced.
ol