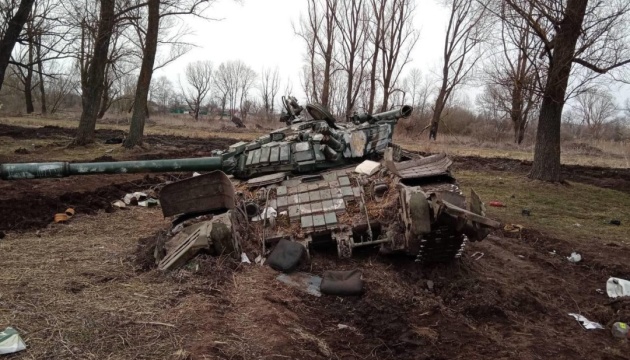 Azov regiment destroys four tanks, two APCs, company of enemy infantry
Soldiers of the Azov Regiment have destroyed four enemy tanks, two armored personnel carriers, hitting another armored personnel carrier.
The Azov Regiment said this in a statement released on Telegram, Ukrinform reports.
"Soldiers of the Azov Regiment destroyed four tanks and two armored personnel carriers in one day, hitting one more armored personnel carrier of the Russians. A company of enemy infantry was destroyed. Fighting for the Ukrainian city of Mariupol continues, including in the streets of the city. Defenders of Mariupol are fighting selflessly with the occupiers who continue to attack the city from aircraft and artillery, giving them a decent rebuff," the statement said.
In Mariupol, the Russian aggressor destroyed 80% of residential houses, of which almost 30% cannot be restored.
On February 24, Russian President Putin announced a full-scale invasion of Ukraine. Russian troops have been shelling and destroying infrastructure, residential areas of Ukrainian cities and villages using artillery, multiple rocket launchers and ballistic missiles.