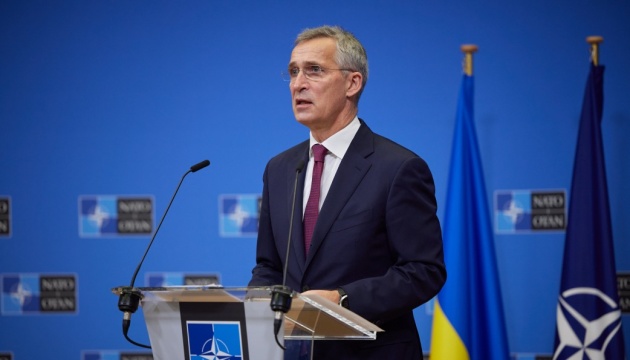 NATO understands Ukraine's frustration, steps up military aid - Stoltenberg
NATO understands the frustration and desperation of the political leadership and people of Ukraine over the barbaric actions of the Russian army against the civilian population and is responding to this situation by increasing military aid to Ukraine.
NATO Secretary General Jens Stoltenberg said this at a press conference in Berlin following a meeting with German Foreign Minister Annalena Baerbock, according to an Ukrinform correspondent.
"I fully understand the frustration and the desperation that President Zelensky and the Ukrainian people feel because they're in an extremely difficult situation where they see civilian casualties, destruction every day, including attacks on hospitals, schools, civilian infrastructure. And that's also the reason why NATO Allies have stepped up their support, also delivering advanced weapon systems, air and missile defense, anti-tank weapons, fuel, ammunition, which is critical for the resistance that Ukrainian forces are able to mobilize against the invading Russian forces. And at the Defense Ministerial meeting yesterday Allies stated and committed to continue to provide critical support to Ukraine," he said.
He recalled that NATO started actively supporting Ukraine in 2014, when Russia occupied Crimea.
"We have also actually supported Ukraine significantly since 2014, since Russia illegally annexed Crimea. Since then, NATO Allies and NATO have supported Ukraine in many different ways. Allies have trained tens of thousands of Ukrainian troops which are now on the front line fighting the invading forces," Stoltenberg said.
According to him, NATO has provided Ukraine missile defense and air defense systems and many types of equipment for many years.
"So the Ukrainian Army, Defense Forces, is much bigger, much stronger, much better equipped, much better trained, much better commanded now than in 2014. It's first and foremost the bravery, the courage of the Ukrainian Armed Forces which has enabled them to resist the invading Russian forces, but of course the support we have been giving them for many years has proven to be extremely important and therefore we continue to provide support to Ukraine," Stoltenberg said.