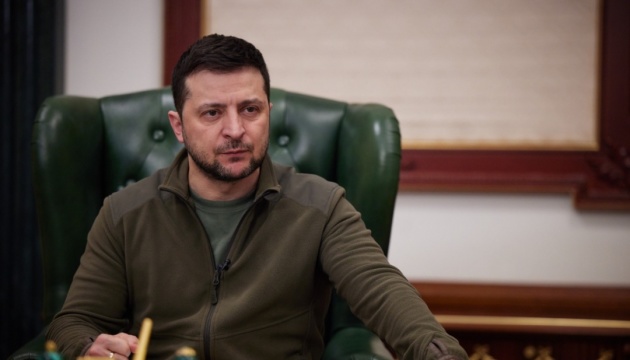 Zelensky calls on world to officially recognize Russia as terrorist state
Russia's economy is still capable of maintaining its military machine, so new packages of sanctions are needed, and the world must finally officially recognize that Russia has become a terrorist state.
"The war does not end. Russia's war crimes do not stop. The Russian economy is still able to maintain their military machine. That is why new packages of sanctions against Russia are needed. The world must finally officially recognize that Russia has become a terrorist state," President Volodymyr Zelensky said in his address.
The President asked "what else do the occupiers have to do, how many more people do they have to kill in order for Western leaders, NATO leaders to respond positively to Ukraine's request for a no-fly zone or for providing our country with the aircraft we so desperately need?"
"I spoke about this today in a speech to the United States Congress. Ukraine has received strong support from our American friends. And I'm grateful to President Biden for that. I am grateful for the leadership that has united the democratic world," Zelensky informed.
He specified that Ukraine needed to get more support: air defense systems, aircraft, enough lethal weapons and ammunition to stop the Russian occupiers.
"It was in this speech in Congress that I addressed both the United States and all the relevant states as regards creating a new U-24 union. A new alliance that will ensure that each aggressor receives a coordinated response from the world. Fast and efficient. Immediately. Not in weeks, months, years, but in the first 24 hours after the attack," the President said.
Zelensky added that "we can no longer trust the existing institutions."
"We cannot expect bureaucrats in international organizations to change so quickly. Therefore, we must look for new guarantees. Create new tools. Take those who have courage and do what justice requires. We have already proved that we can do historical things. This is not just our resistance. Not just defense," the Head of State noted.
He also mentioned that Ukraine had managed to join the European energy network.
"Now Ukraine can use electricity flows from the European Union. We have been moving towards this for decades. It finally happened! I am grateful to all the power engineers of our country, to all those who worked for this result," the President said.
On February 24, Russian president Vladimir Putin announced the beginning of the invasion of Ukraine. Russian troops destroy key infrastructure, massively shell residential areas of Ukrainian cities and villages using artillery, multiple launch rocket systems, and ballistic missiles.
Martial law was imposed in Ukraine and general mobilization was announced. Ukraine repels Russian invaders.
ol