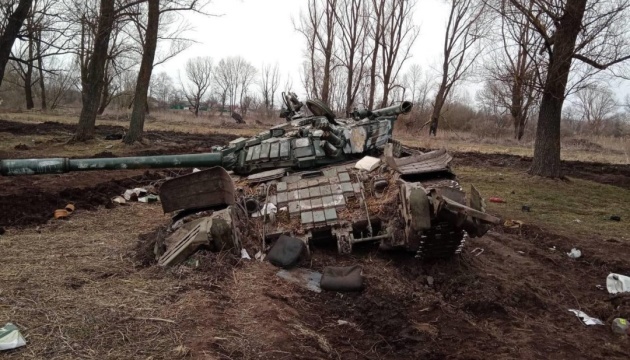 Ukraine Army successfully repels Russia's attack in Polissia direction
Russian invaders attempted to attack the positions of Ukrainian defenders in the Polissia direction, near such settlements as Huta-Mezhyhirska and Liutizh, but the Ukrainian military successfully repelled the attack.
The relevant statement was made by the General Staff of the Armed Forces of Ukraine on Facebook, an Ukrinform correspondent reports.
Russian troops are mostly focusing their efforts on replenishing losses, recruiting mercenaries from other countries and resolving logistical issues.
In the Volyn direction, the enemy's groups are defending the Ukrainian-Belarusian border. Meanwhile, there is a high probability of provocations aimed at involving the Belarusian side in the war as part of Russian occupation troops.
In the Polissia direction, the enemy attempted to break through the defense line of the Ukrainian military but failed. Russian troops also failed to capture Makariv.
In the Siverskyi direction, Russian invaders are trying to expand their ranks, organize logistical supplies and resume an attack on Chernihiv.
In the Slobozhanskyi direction, the enemy's main objective is to encircle Sumy and Kharkiv.
In the Donetsk direction and the Tavriiskyi direction, Russian invaders attempted to attack near Lysychansk, suffered losses and retreated. Near Rubizhne, the enemy is trying to gain a foothold on the western outskirts of the city. With the support of aviation and artillery strikes, offensive operations are underway in the western and eastern outskirts of Mariupol.
In the Southern Bug direction, the enemy is not taking active actions but defending the previously taken positions.
In violation of the international humanitarian law, Russian troops continue to launch missile and air strikes on civil and critical infrastructure facilities, as well as civilians.
The moral and psychological condition of the enemy is remaining low, creating additional problems for the Russian command center.
mk