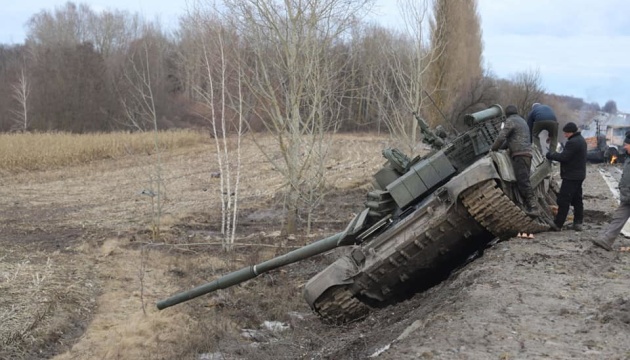 Russia's losses: Over 13,500 personnel, 404 tanks, 81 planes, 95 helicopters
From February 24 to March 15, the combat losses of the Russian aggressor totaled about 13,500 personnel.
The General Staff of the Armed Forces of Ukraine posted the update on losses on Facebook.
In addition, the enemy lost 404 tanks, 1,279 armored combat vehicles, 150 artillery systems, 64 MLRS, 36 air defense units, 81 aircraft, 95 helicopters, 640 vehicles, 3 ships/boats, 60 fuel tanks, 9 UAVs of operational and tactical level.
Data are being updated. The calculation is complicated by the high intensity of hostilities.
On February 24, Russian president Putin declared war on Ukraine and launched a large-scale invasion. Russian troops shell and destroy infrastructure, conduct massive shelling of residential areas of Ukrainian cities and towns using artillery, MLRS, and ballistic missiles.
Martial law was imposed in Ukraine and general mobilization was announced. Ukraine repels Russian invaders.
ol