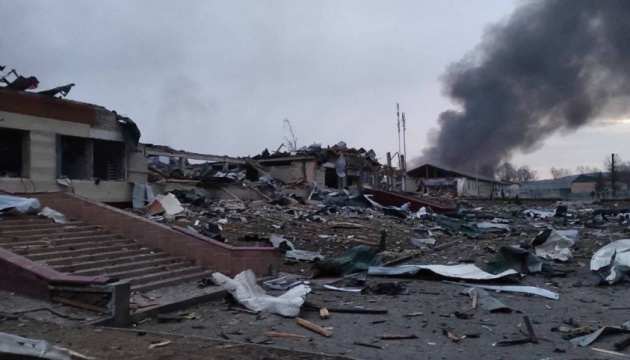 If no-fly zone not introduced over Ukraine, Russian missiles will eventually hit NATO countries - President
President Volodymyr Zelensky is convinced that Russia's launch of missiles at NATO countries will be a matter of time if the Alliance does not close the skies over Ukraine.
He stated this in a video address, Ukrinform correspondent reports.
" Last year, I made a clear warning to NATO leaders that if there were no tough preventive sanctions against Russia, it would start a war. We were right.
I have been saying for a long time that Nord Stream is a weapon that will hit Europe. Now it's obvious.
And now I repeat again - if you do not close our sky, it is only a matter of time before Russian missiles fall on your territory. NATO territory. On the homes of citizens of NATO countries," Zelensky said.
He reminded that on Sunday morning 30 missiles for the Lviv region alone. The shelling of the International Center for Peacekeeping and Security killed 35 people and wounded 134 others.
" Nothing was happening there that could threaten the territory of the Russian Federation. And only 20 kilometers away are NATO borders," the President stressed.
At the same time, he noted that in the Kyiv region, as a result of a deliberate attack by the Russian military, American journalist Brent Reno was killed and his colleague was wounded.
Zelensky also reminded that In the east of our country, the invaders decided to "demilitarize" and "denazify" the Sviatohirsk Lavra of the Ukrainian Orthodox Church, Moscow Patriarchate.
At the time of the attack, only monks and hundreds of refugees were on the territory of the monastery. No military target in or near the monastery. But Russian troops do not stop even before striking at the monastery, the head of state said.
"This fact alone demonstrates that the whole ideology of the Russian state is simply a lie," Zelensky stressed.