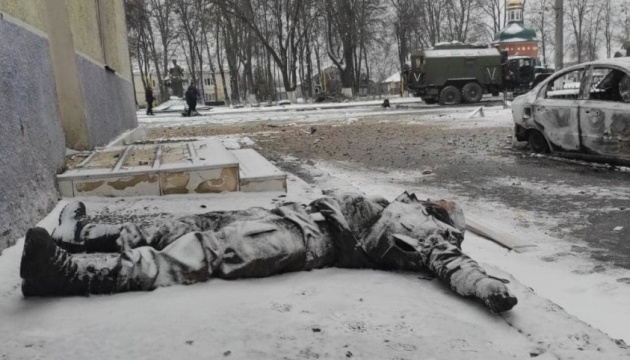 Russian soldiers massively refusing to be "deployed to Ukraine" - General Staff
Cases where Russian soldiers massively refuse to be deployed in Ukraine are being recorded.
This is stated in the operational update on the Russian invasion as of midnight on March 14, 2022, posted on the Defense Ministry's Facebook page.
The eighteenth day of the Ukrainian people's heroic resistance to the Russian military invasion is over.
Russian occupation forces continue their offensive operation against our nation. They are trying to gain a foothold in the occupied positions and maintain the pace of the offensive in certain areas.
In order to increase the number of groupings in Polissia, Tavriya, and Pivdenyi Buh operational areas, the enemy is forming and deploying to Ukraine's borders their strategic reserves.
There have been cases of mass refusals by Russian servicemen to be "deployed in Ukraine" to take part in hostilities, despite promises of "war veteran" status, additional daily allowances, and higher salaries.
Ignoring the norms of international humanitarian law, the Russian occupiers continue to destroy stationary military and civilian infrastructure in Ukraine. Thus, on March 13, Russian strategic warplanes carried out missile strikes targeting a number of sites in Uman, Ivano-Frankivsk, and Starychi. In addition, the launches of the Iskander ballistic missiles from the territory of Belarus continue.
Volyn direction: the enemy carried out demonstration operations involving Belarus army units along the State Border of Ukraine.
Polissia direction: units of the occupying forces undertook measures to restore combat capability, regroup their troops, and improve logistics. Not to be caught off guard, the enemy is conducting proactive reconnaissance.
Northern direction: the enemy focused on regrouping, replenishing supplies, and preparing to resume the offensive toward Brovary.
Slobozhansky direction, the enemy is trying to gain a foothold on the gained positions, regrouping troops and trying to resume offensive operations toward the cities of Kharkiv and Sumy.
Izium direction: as a result of active offensive action by Ukrainian troops, the enemy suffered losses in the area of ​​ Topolske, Shpakivka, and Donetsk, being forced to retreat.
Donetsk and Tavria directions: enemy units are trying to carry out assault operations, focusing their main efforts on advancing in the direction of Severodonetsk. Attempts to capture Mariupol remain unsuccessful.
Pivdennyi Buh direction: the enemy is trying to conduct raids and gain a foothold on the gained positions.