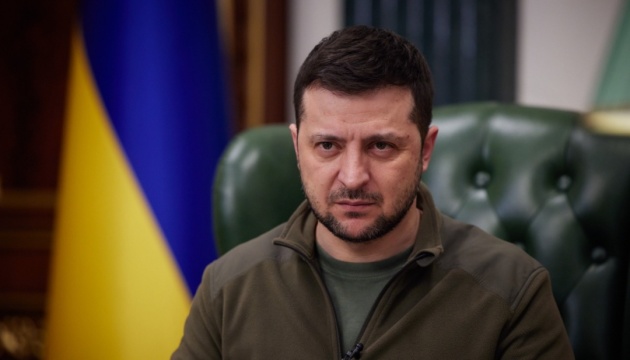 Zelensky: There are several ways to close sky over Ukraine
Some members of the Western world will not come to their senses until the missiles hit them.
"As for closing the sky, the answer is very simple. Sometimes it seems to me that some representatives of the Western world, when they sit in a cafe, will not believe that this will happen to them until a bomb lands in the very same cafe. Until then, no one will close the sky. I have this feeling, I do not want this for anyone, and we do not want it. We do not want the whole world, the whole of Europe to feel how it hurts us," President Volodymyr Zelensky said in an interview with foreign media, Ukrinform reports.
He noted that politicians should understand that the opportunity to prevent war should be used before the war.
"I believe that politicians have experience, they must understand before it hurts, especially if you have the opportunity to do so – to close the sky," Zelensky said.
According to him, there are several possibilities to close the sky over Ukraine. One of them is to supply Ukraine with missile defense. At the same time, as the President emphasized, our state found suppliers, developed supply logistics, and is ready to pay.
"Ukraine has found the locations in all countries across the world, precise warehouses. We did not just say: help us. We asked those who have it: give it to us, please. Then we realized that it is difficult for people to just give. We said we were ready to buy it. We are ready to take loans, we are ready to withdraw the last money from our budget and give it away immediately... We are ready to transport it," said Zelensky.
The President stressed that Ukraine was considering an alternative to closing the skies, including aircraft supplies.
"The same goes for planes. We were also told that we don't have pilots for some planes. We also found planes for which we have pilots. And then we found pilots who are ready to be citizens of our state. How to help us? People from all over the world are ready to provide Ukraine with an alternative to closing the sky. They are ready. But those, who make decisions, are not ready," Zelensky said.
On February 24, Russian president Putin announced the beginning of the invasion of Ukraine. Russian troops invaded simultaneously from the north, east, and Crimea. They destroy cities, kill civilians, fire on and ruin key infrastructure facilities, and hit residential houses with missiles.
Martial law was imposed in Ukraine and general mobilization was announced. The Armed Forces of Ukraine, with the support of the entire nation, courageously resist the aggression.
ol