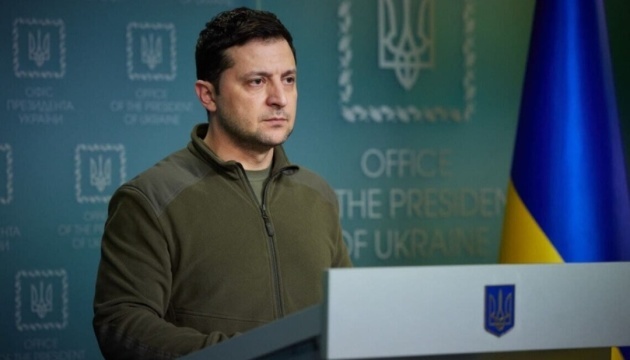 Ukraine dealt biggest blow to Russian army in decades – President Zelensky
Russian invaders are suffering enormous losses in Ukraine, which is the biggest blow dealt to the Russian army in decades.
The relevant statement was made by Ukrainian President Volodymyr Zelensky in his video address, an Ukrinform correspondent reports.
"Our Armed Forces are doing everything to deprive the enemy of any desire to continue the war against Ukraine. The losses of Russian troops are enormous. The dynamics of the invaders' losses on the 17th day is such that it is safe to say that this is the biggest blow to the Russian army in decades. They've never lost more than that in such a time period," Zelensky said.
Since the beginning of the invasion, 31 battalion tactical groups of the enemy have lost their combat capability. The Russian militaries are being taken prisoners not just alone, but in groups. Groups are trying to leave Ukraine and come back to Russia as well.
The enemy's losses in terms of technical capabilities are astounding: more than 360 tanks, 1,205 armored vehicles. And that's without counting the losses in the battles last night and in the morning.
According to Zelensky, the enemy also lost about 60 aircrafts, more than 80 helicopters and hundreds of other advanced military equipment units, which Russia is proud of.
"Most of the world's armies do not have as much as Russian troops lost during the invasion," Zelensky noted.
mk