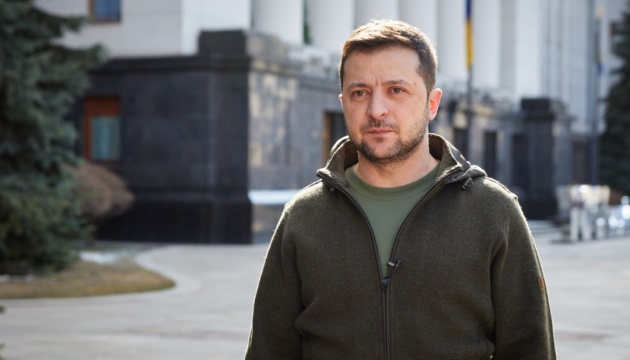 Ukraine reaches strategic turning point in war with Russia - Zelensky
President Volodymyr Zelensky has said that it is impossible to say how long fighting will continue to liberate the country, but Ukraine has already achieved a strategic turning point in the war with the Russian Federation.
He said this in a video address on the 16th day of the war, an Ukrinform correspondent reported.
"We have been fighting for our freedom for sixteen days. It is four times longer than the enemy planned to invade. Four times longer. We have been fighting against the army that was considered one of the strongest in the world, the army that was hoping that the Ukrainians would surrender... They hoped that someone would greet Russian flags with flowers on Ukrainian streets… It is impossible to say how long it will take to liberate our Ukrainian land. However, it is possible to say - we will do it! Because we want it, because we have already reached a strategic turning point. We are moving towards our goal, towards our victory," Zelensky said.
The president stressed that Ukrainians are proud people who always defend their land and will never give the attackers a single piece of native land, a single percent of freedom. Zelensky noted he understands that some people are tired.
"Emotions play a bad game with people. It's life. When we mobilize, when we see our military victories and the loss of the enemy, we expect the struggle to end sooner. That the occupiers will fall faster. But ... It's life. It's war. It's a struggle," Zelensky said.
He stressed that it will take a little more time, patience, wisdom, energy, as well as the ability to do own as good as possible and work together to achieve victory.
As reported, Russia declared war on Ukraine and launched a large-scale invasion.
iy