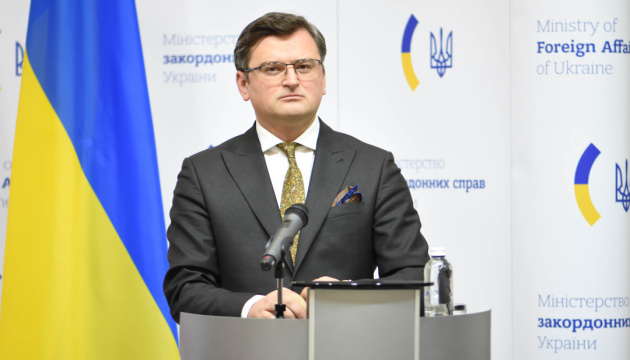 Kuleba, Lavrov fail to make progress on 24-hour ceasefire
Foreign Minister of Ukraine Dmytro Kuleba said that at a meeting with Russian Foreign Minister Serhiy Lavrov in Antalya, the parties failed to make progress on establishing a humanitarian corridor in Mariupol and a 24-hour ceasefire.
The Ukrainian foreign minister said this at a press conference following talks with Lavrov in Antalya, an Ukrinform correspondent reported.
"I came here for humanitarian purposes so that to leave the meeting with a decision on establishing a humanitarian corridor to and from Mariupol. From Mariupol - for civilians who want to leave the place of fear and fighting, and a humanitarian corridor – for providing humanitarian aid to Mariupol," the minister said.
Kuleba noted that the most tragic situation is currently in Mariupol. "Unfortunately, Minister Lavrov was not able to assume these commitments, but he will contact the relevant authorities on this issue," Kuleba said.
In addition, the issue of a 24-hour ceasefire was raised to address the most painful humanitarian topics. However, according to the Ukrainian minister, the parties have not made any progress, "because it seems that other people in Russia are making decisions on that."
Kuleba stressed that the foreign ministers agreed to continue efforts to find a solution to humanitarian issues. The Ukrainian minister also stressed that he is ready to meet again in this format if there are prospects for a meaningful conversation and finding a solution.
"I believe that when the two foreign ministers meet, they have a mandate from the beginning to discuss issues of peace and safety. The mandate entrusted to them by their leaders, parliaments. I am ready to continue this process in order to end the war in Ukraine, end the suffering of Ukrainian civilians and liberate our territories from the Russian occupation forces," Kuleba said.
As Ukrinform reported, a tripartite meeting of the foreign ministers of Ukraine, Turkey and Russia took place as part of the Antalya Diplomacy Forum on March 10.
iy