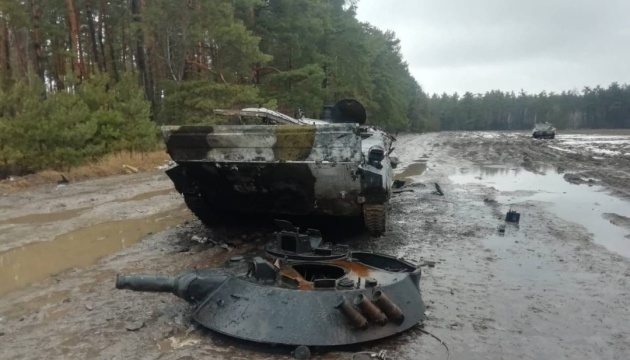 6 Russian tanks, 1 infantry fighting vehicle destroyed with export anti-tank missiles in battle for Kyiv
Thanks to export anti-tank missile systems, six Russian tanks and one infantry fighting vehicle were destroyed in the battle for Kyiv on Wednesday.
"Today, six tanks and one infantry fighting vehicle of the occupiers were destroyed by one of the brigades of the Land Forces of the Kyiv Territorial Defense Forces and one of the special purpose brigades in the battle for the capital," Commander-in-Chief of the Armed Forces of Ukraine Valeriy Zaluzhny posted on Facebook.
He clarified that the Ukrainian units were armed with Stuhna and Corsar anti-tank missiles, which were intended for export to foreign markets and handed over to the military by the Luch Design Bureau. The Commander-in-Chief of the Armed Forces of Ukraine also stressed that during the training, Ukrainian service members mastered new forms and methods of using units, namely asymmetric actions. "Currently, the Armed Forces of Ukraine are practicing what they learned in real combat conditions, involving the territorial defense and special purpose forces," he noted.
As reported, on February 24, president Putin announced the beginning of the Russian invasion of Ukraine. Russian troops are shelling and destroying key infrastructure, massively hitting residential areas of Ukrainian towns and villages using artillery, multiple-launch rocket system, and ballistic missiles.
Martial law was imposed in Ukraine and general mobilization was announced.
ol