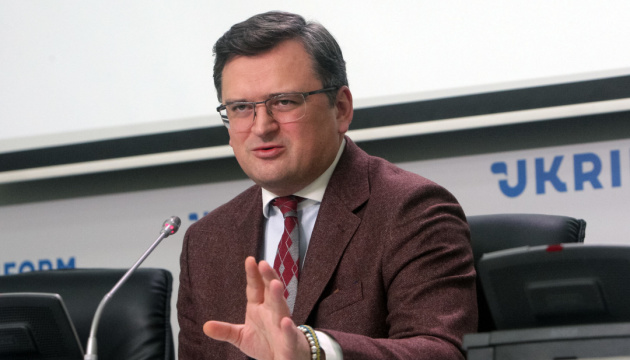 Kuleba on negotiations with Lavrov: We will make the most
Minister of Foreign Affairs of Ukraine Dmytro Kuleba said he was leaving for talks with Russian foreign minister Sergey Lavrov with a strong negotiating position, but expectations from this meeting are restrained.
Preparations are underway for tomorrow's talks with Lavrov, Kuleba said in his address posted on Facebook, an Ukrinform correspondent reports.
"We are working very hard to make them as effective as possible. I will say frankly that my expectations from the negotiations are restrained. I do not have any exaggerated expectations but, of course, we will make the most," said the Foreign Minister of Ukraine.
He noted that the Ukrainian side would demand the establishment of ceasefire, the liberation of territories, and the elimination of humanitarian catastrophe created by the Russian army.
Kuleba noted that due to the heroism of Ukraine's defense forces, the inviolability of President Volodymyr Zelensky's position, and the coordinated actions with partners to impose sanctions, support Ukraine's defense, and isolate Russia, he is leaving for these talks with a strong negotiating position.
"We are strong, we are confident, and we will make the most in the interests of Ukraine and the Ukrainian people. What we will get at the end is another question. It depends, among other things, on what instructions and directives Mr. Lavrov is going to these talks with," Kuleba said.
He expressed hope that the Russian minister would approach the talks "in good faith, not from a propaganda perspective, but really with the task of finding a solution on how to end the war waged by Russia."
As reported, a trilateral meeting of the foreign ministers of Ukraine, Turkey, and Russia will take place within the framework of the Antalya Diplomacy Forum on March 10.
ol