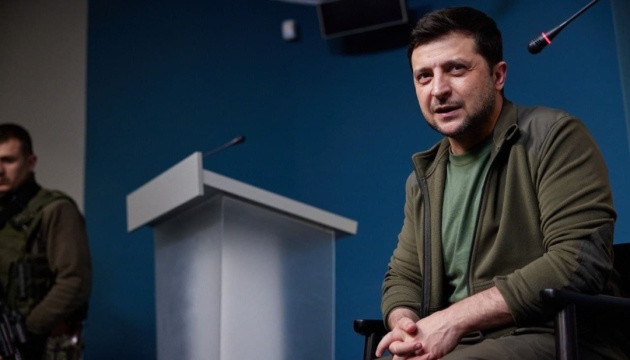 Zelensky urges the West to solve 'technical issue' of providing Ukraine with combat aircraft
President of Ukraine Volodymyr Zelensky calls on the West not to delay the decision on Poland's transfer of combat aircraft to Ukraine and not to shift responsibility to each other.
"Fourteen days of a full-scale brutal war. Terror against our people. Destruction of cities, blockade of entire districts, constant bombing... Fourteen days of absence of a vital decision. Not our decision! We would make that decision in hours if we had to help our friends," President of Ukraine Volodymyr Zelensky said in his address to the citizens, an Ukrinform correspondent reports.
He noted that from the first day of the Russian invasion, Ukraine had been repeating to its partners: "If you do not close the sky, you will also be responsible for this catastrophe, a large-scale humanitarian catastrophe."
"Russia uses missiles, aircraft, helicopters against us, against civilians, against our cities, against our infrastructure. This is the world's humanitarian duty to respond. But... There is no decision," Zelensky said.
The President thanked Poland for its readiness to provide Ukraine with combat aircraft. The problem is in logistics, he noted.
"In fact, it is a technical issue. It must be solved! Immediately. There is an official decision of Poland to transfer the planes to the relevant base - the American base. We also have confirmation - we have all heard - that the agreement between the American party and Poland has been reached. But at the same time we hear that Poland's proposal is allegedly unfounded. And that's what they say in Washington. We also read this. So when will the decision be made?" Zelensky asked.
ol