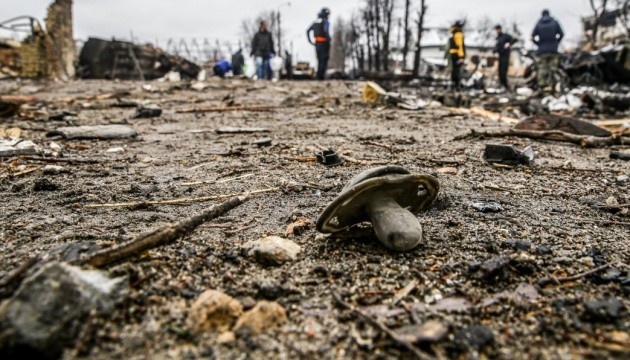 Zelensky: Russian invaders killed 52 children over 13 days of war in Ukraine
Ukraine will not allow anyone to ignore the sufferings and murders of Ukrainians as 52 children were killed over 13 days of the war.
"We will not allow anyone in the world to ignore the suffering and murder of our people, our children. Today, when I spoke to the British Parliament, the scariest number was 50. 50 Ukrainian children killed in 13 days of war. And in an hour it was 52. 52 children. I will never forgive that. And I know that you will never forgive the invaders. Like Kharkiv, Mariupol and all other cities," President of Ukraine Volodymyr Zelensky said in his video address on March 8, an Ukrinform correspondent reports.
He added that in the evening, Russian invaders fired a missile on a dormitory in Korbutivka, Zhytomyr region.
"In the evening, they fired a missile at Korbutivka in the Zhytomyr region. Destroyed the dormitory. How could an ordinary dormitory threaten Russia? What geopolitical interests of the nuclear state were threatened by it? Eternal memory to all the people who were killed by these savages," Zelensky stated.
On February 24, Russian president Putin launched a large-scale invasion of Ukraine. Russian troops kill civilians, shell and destroy key infrastructure, and missiles hit Ukrainians' homes.
President of Ukraine Volodymyr Zelensky signed a decree on general mobilization.
Ukraine officially filed a lawsuit against the Russian Federation at the UN International Court of Justice in The Hague.
ol