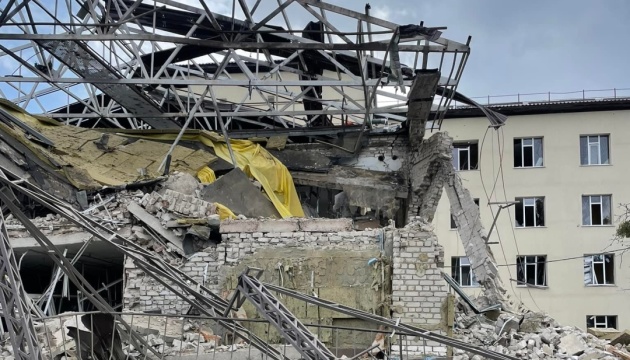 Russians fire on hospital in Izium. Patients working their way out of rubble
Russians fired on a central town hospital in Izium, Kharkiv region. Patients had to work their way out of rubble.
"I thought the gates of hell were closed, but it turned out that it was only the first floor. This is the admissions office of our central town hospital. Probably, another secret NATO base. Patients were working their way out of rubble as best they could," Deputy Chairman of the Izium Town Council Volodymyr Matsokin posted on Facebook, Ukrinform reports.
As reported, the center of Izium turned into a complete ruin due to the attacks launched by Russian invaders: the buildings of the railway and bus station, court, college, police department, shops, etc. were destroyed. There is no food, water, light, gas, heat in the town, the connection is not working.
According to Oleksiy Arestovych, a non-staff adviser to the Head of the Office of the President of Ukraine, the report that the enemy had allegedly captured Izium was untrue as of March 8. Fighting is going on there now.
On February 24, Russian president Vladimir Putin announced the beginning of the invasion of Ukraine. Russian troops simultaneously crossed Ukrainian borders from the north, east, and Crimea. They are destroying cities, killing civilians, shelling and destroying key infrastructure facilities, hitting Ukrainians' homes with missiles. Martial law was imposed in Ukraine and general mobilization was announced. The Armed Forces of Ukraine, with the support of all the people, courageously resist the aggression.
ol