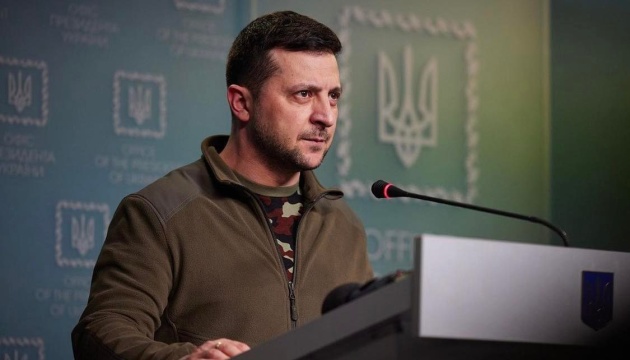 Zelensky: In 13 days in Ukraine, Russia loses more aircraft than in past 30 years
The Russian Federation lost more warplanes and helicopters in the past 13 days of war against Ukraine than it did in the past 30 years, but the invaders still have enough aircraft and other hardware to terrorize the country and kill civilians.
That's according to President Volodymyr Zelensky, who spoke in a video address to the nation, an Ukrinform correspondent reports.
"We have been fighting for 13 days now. We've been destroying the invaders wherever we can. Everywhere, but there is also the sky. Hundreds of Russian cruise missiles. Hundreds of enemy warplanes. Hundreds of helicopters. Yes, we're destroying them. Russia hasn't lost so much aircraft in the last 30 years as they have over these 13 days in Ukraine, but they still have enough aircraft to kill, enough missiles to terrorize, enough 500-kg bombs to drop on us, ordinary people, on Chernihiv and Kyiv, Odesa and Kharkiv, Poltava and Zhytomyr. Dozens and dozens of Ukrainian cities. Millions and millions of peaceful Ukrainian people," Zelensky stressed.
On February 24, Russian President Vladimir Putin declared war on Ukraine and launched a large-scale invasion. Russian troops have been killing civilians, shelling and destroying key infrastructure, while their missiles have been hitting Ukrainian households.
Martial law was imposed in Ukraine and general mobilization was announced.