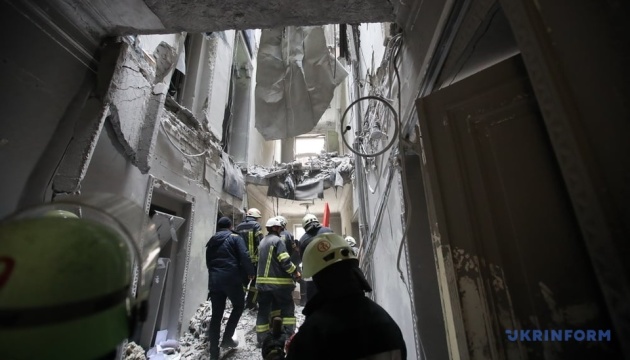 Regions continue to ask NATO to close sky over Ukraine
Local government agencies in Ukraine continue to appeal to NATO members with the request to close the skies over Ukraine, according to Ukrinform.
"Thousands of peaceful Ukrainians, including hundreds of children, died during this time. Houses and social infrastructure facilities -- hospitals, educational institutions -- are being destroyed in Ukrainian cities. All this was caused by attacks by Russian military aircraft and missiles, which are indiscriminately launched at Ukraine. The whole world sees the results of this barbarism," Lviv Regional Council deputies said in their appeal.
Similar documents were approved by Zhytomyr City Council and Zhytomyr Regional Council. In a joint appeal, the heads of the regional military administration, the regional council and the city council of the regional center stressed that tonight the Russian troops bombed only the residential areas of Korosten and Ovruch. One person died, more than 30 families were left homeless. Both shelling incidents were recorded very far from military facilities.
"Yesterday, Zhytomyr City Council convened an extraordinary session and appealed to European and NATO countries to close the sky over Ukraine. We ask for help so that these missiles, these planes do not bomb civilians, schools, hospitals," the statement reads.
All 66 communities in Zhytomyr Region are convening sessions today, March 6, to adopt a similar appeal.
All 44 deputies unanimously supported Khmelnytsky Regional Council's appeal to the United States, members of the North Atlantic Treaty Organization, European leaders, diplomatic missions, and missions of international organizations to impose the A2/AD zone over Ukraine.
"Arguments that the current refusal to introduce A2/AD is that NATO is trying to avoid a nuclear war are not convincing, as the Russian Federation has already started it. The historical lessons are difficult and must be taken into account. The decision to introduce the A2/AD zone over Ukraine will help save thousands of lives," the document reads.
Ternopil Regional Council also called for closing the sky over Ukraine.
"The decision that will save hundreds if not thousands of lives is on your table. Do not shy away from historical responsibility to the world, your own peoples and the great European nation, which Ukrainians were and will be, and support our country in fighting the Russian occupiers for the right to exist," the deputies demanded.
Requests to close the sky over Ukraine were also approved by the Vinnytsia, Chernivtsi and Poltava city councils, and the Vinnytsia, Chernivtsi, Cherkasy, Mykolaiv and Kherson regional councils.
As Ukrinform reported, NATO did not agree to impose a no-fly zone over Ukraine.
President Volodymyr Zelensky said that by refusing to close the sky over Ukraine, NATO leaders had given the "green light" to further bombardment of Ukrainian territory by Russian troops.
According to the Ipsos poll, about 74% of Americans say the United States and NATO allies must close the sky over Ukraine.