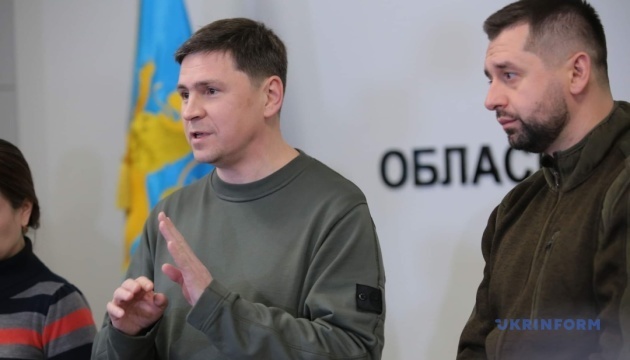 WW3 already started, but the world does not get this – Podoliak
World War III has already started, but the world does not understand this.
The relevant statement was made by Advisor to the Head of the Office of the President of Ukraine Mykhailo Podoliak, an Ukrinform correspondent reports.
In his words, the international community still cannot believe that such events are possible in 2022.
"They sit in cafes, restaurants, for example in Brussels, Amsterdam, thinking of Netflix, let's say. They were not psychologically ready that one can come and start bombing the city center. The big city with a population of 3.5 million people. They did not understand this. They thought World War II ended, and nothing like that will ever happen. There will be some local conflicts but not a global conflict. Now there is a global conflict," Podoliak stressed.
According to Podoliak, the international community believes World War III will begin if they intervene.
"But it is already here. These are specific manifestations of World War III," Podoliak noted.
In his words, Russia will not stop at Ukraine and bring the war to other countries as well.
According to Podoliak, Ukraine's western partners do not yet fully realize that the actions of Russian invaders are posing a terrorist threat to the world, namely this refers to attacking Zaporizhzhia Nuclear Power Plant (NPP).
"Unfortunately, the Western world, our partners, do not yet fully realize that it is a terrorist threat to the world. Considering that Zaporizhzhia NPP was bombed last night, it is already non-sense," Podoliak said.
Currently, long-lasting battles are underway near many Ukrainian cities, and it is obvious that this is a humanitarian catastrophe in the heart of Europe.
"Undoubtedly, a package of sanctions imposed by our Western partners on the Russian Federation is creating very serious consequences for them that will have effect for one, two and even three years… This has already brought their economy down. It is clear they want to elaborate a certain decision, but these decisions must be in the interests of Ukraine too," Podoliak added.
In his words, any war consists of several stages, and talks are one of the mandatory stages. In particular, Ukraine needs to resolve humanitarian issues today.
Photo: Office of the President of Ukraine
mk