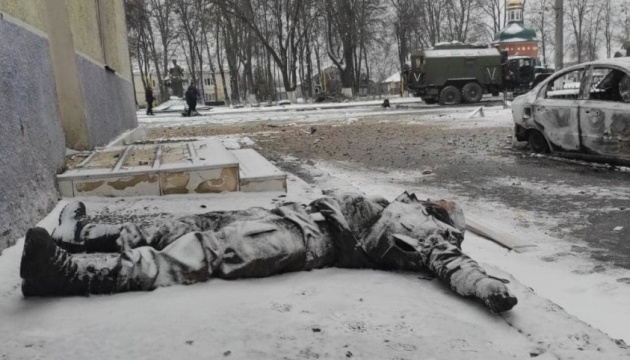 Losses of Russian invaders exceed 9,100 people
The total losses of Russian troops since the beginning of the attack on Ukraine have reached about 9,166 people.
"Enemy's total combat losses from February 24 to March 4 total about 9,166 people," the General Staff of the Armed Forces of Ukraine posted on Facebook.
It is also noted that Russian troops have already lost 251 tanks, 939 armored combat vehicles, 105 artillery systems, 50 MLRS, 18 air defense units, 33 aircraft (information to be clarified), 37 helicopters (information to be clarified), 404 vehicles, two high-speed powerboats, 60 fuel tanks, three operational and tactical UAVs.
The calculation is complicated by the high intensity of hostilities, the General Staff added.
As reported, on February 24, Russian president Vladimir Putin declared war on Ukraine and launched a large-scale invasion.
Russian troops are killing civilians, shelling and destroying key infrastructure facilities, and missiles hit Ukrainians' homes.
Martial law was imposed in Ukraine and general mobilization was announced. The Armed Forces of Ukraine, with the support of the entire nation, courageously resist Russian aggression.
Ukraine filed a lawsuit against the Russian Federation at the UN International Court of Justice in The Hague. International Criminal Court Prosecutor Karim Khan commenced an investigation into the situation in Ukraine.
ol