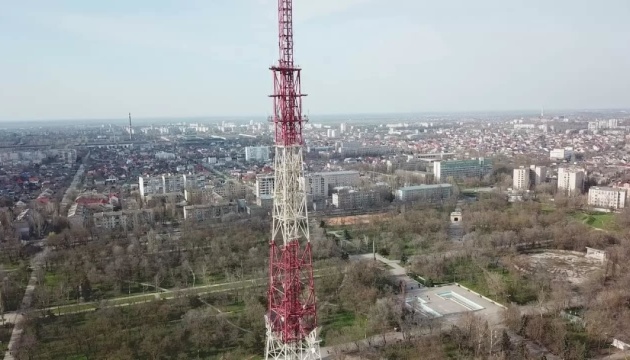 Russian invaders seize TV tower in Kherson – Ministry of Internal Affairs
The enemy seized a TV tower, TV and radio broadcasting in Kherson and will disseminate information across this city.
"Kherson and region: the enemy seized a TV tower and TV and radio broadcasting and will disseminate news and information across Kherson. Of course, there will be great deal of fakes, disinformation, and propaganda. The government will never give up a piece of our land. Everything that will be said by terrorists is a lie," the press service of the Ministry of Internal Affairs of Ukraine posted on Facebook.
According to the Ministry, the occupiers do not allow to create a green corridor in order to further exacerbate humanitarian catastrophe in the city.
It is noted that the enemy is vile as it plans to bring a humanitarian convoy from Russia and journalists to shoot news reports on how Russian military provide food and medicine – yet another propaganda for Russian consumers.
"The authorities are working to provide citizens with everything they need and this issue will be resolved as soon as possible! Unlike the enemy, Ukrainians are smart, wise, educated and able to analyze the situation. We must not allow the enemy to get what it wants! Let's hold on, we are together, and we are on our land," the Ministry underscored.
As reported, on February 24, Russian president Vladimir Putin declared war on Ukraine and launched a large-scale invasion.
Russian troops are killing civilians, shelling and destroying key infrastructure facilities, and missiles hit Ukrainians' homes.
Martial law was imposed in Ukraine and general mobilization was announced. The Armed Forces of Ukraine, with the support of the entire nation, courageously resist Russian aggression.
ol