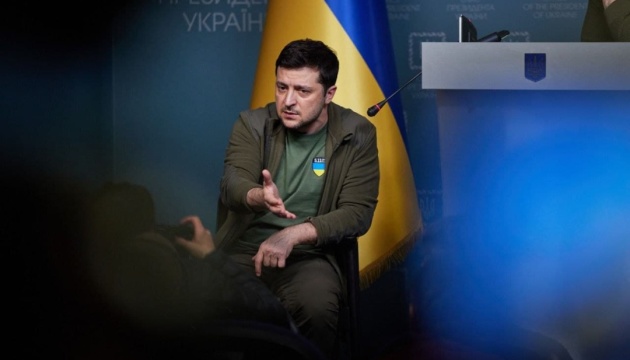 Zelensky: I wouldn't like Ukraine story to be that of 300 Spartans - I want peace for my nation
Ukrainians do not take anything from anyone, but protect their land and their freedom. This was stated by President of Ukraine Volodymyr Zelensky in an interview with foreign media.
"We have a special state and very special people. I really wouldn't wish their destruction. I wish they all stayed, and not just in the stories. I would not like the story of Ukraine to be a legend of 300 Spartans. I want peace and I want it to come to my country," he said, according to the President's Office.
At the same time, Volodymyr Zelensky stressed: "We are on our land, ready for anything." He noted that the Russian army, which is fighting against the Ukrainian state, significantly outnumbers the Ukrainian army; the enemy does not count his people and does not take into account any losses.
"They brought a crematorium with them. That is, they are not going to show their families, their mothers, in advance that their children died here, that they came here to kill us. We are defending our freedom, our home, and that is why they are dying," the president said.
He called such behavior of the Russian aggressor an act of genocide, which despite the tragic lessons of history is committed in the XXI century already.
"If we can't stop such steps, this is the end of the world. And the end of the world for such people ", - the Head of State is convinced.
According to him, today Ukraine is a "fence" between civilization and non-civilization.
The President noted that it is impossible to determine the time intervals in which Ukraine will be able to repel Russian aggression.
"We are not holding on in terms of time - we are holding on to us, we are defending because it is our job. A job that has become the preservation of our lives, our history, our family," said Volodymyr Zelensky.
The Head of State noted that he, like anyone, worries about the lives of his loved ones, but shares the pain of every Ukrainian in these difficult times.
"We are afraid for our loved ones. And we are very afraid of losing the place we live in. I am afraid to imagine that I do not have a state, and you are asked: "Where are you from?" And you say: 'There is no such country.' I'm afraid of that. I am afraid of what we will leave to our future generations," he said.
Volodymyr Zelensky also said that had he not been President, he would have joined the Territorial Defense Forces to help Ukrainian defenders repel the military invasion.
"I would provide food, shoot, help, I would do what I was told. But if I had been told an ultimatum: you must lay down your arms, go to the other side, I would not have done so. No matter what warrior I am. That's the difference. Because we are here, we defend our own. We are not taking anything away," the head of state stressed.