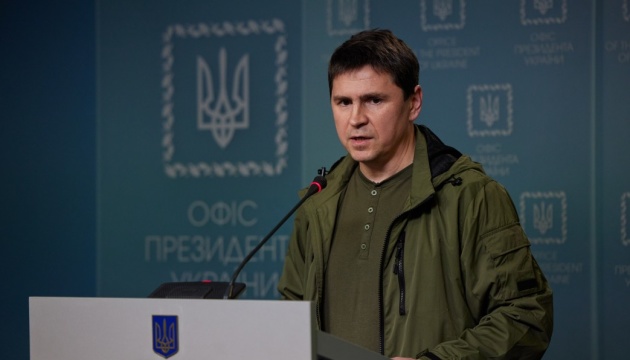 Ukraine did not achieve results it expected in talks with Russia - Podoliak
The Ukrainian delegation did not achieve the results it expected in the talks with the Russian delegation.
Mykhailo Podoliak, an adviser to the head of the Ukrainian President's Office, made this announcement at a briefing, according to an Ukrinform correspondent.
"The second round of talks between the Russian and Ukrainian sides has just ended. Unfortunately, we did not get the results we hoped for," he said.
At the same time, Podoliak said that the humanitarian aspect was discussed in detail, because in many cities there is a "dramatic situation" with the possibility of evacuation, as well as with food and medicine.
Referring to the official decision, Podoliak clarified that the parties agreed to jointly provide humanitarian corridors for the evacuation of civilians, as well as for the delivery of medicines and food to the sites of the fiercest fighting with the possibility of ensuring a temporary ceasefire for the period of evacuation.
"That is, there may be a ceasefire not everywhere, but only in those places where there will be humanitarian corridors for the period of the evacuation. To this end, special communications and interaction channels will be organized in the near future, appropriate logistics procedures will be formed," Podoliak said.
He also added that the delegations had agreed to continue their work in the third round of talks as soon as possible.
The second round of talks between the Ukrainian and Russian delegations took place on March 3.
According to Podoliak, the key issues were an immediate ceasefire, truce, and humanitarian corridors to evacuate civilians from villages and towns that have been destroyed or are being constantly shelled.
On February 28, the Ukrainian and Russian delegations held the first round of talks in Belarus and traveled to their capitals to consult on further decisions. According to Podoliak, negotiations between the delegations were difficult, but without any mandatory ultimatums.