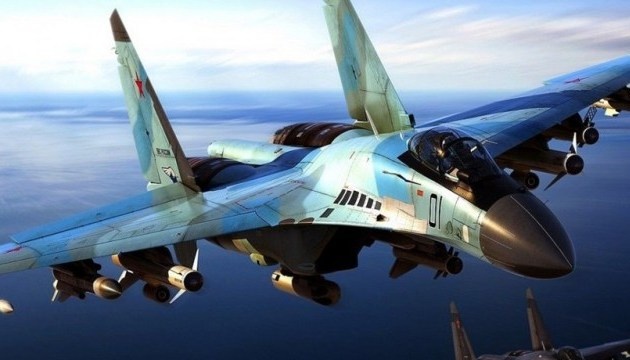 Ukrainian military shoot down two Russian fighter aircraft in Kyiv region
On the night of March 1, Ukrainian air defense units destroyed two Russian Su-35S fighters in Kyiv region.
"On the night of March 1, a fierce air battle broke out in Kyiv region between a pair of MiG-29 fighters of the Air Force Tactical Aviation Brigade and a pair of Russian Su-35S aircraft. As a result of the air battle, the two Russian planes were destroyed. Along with air-to-air missiles, S-300 surface-to-air missiles of the local anti-aircraft missile brigade of the Air Command 'Center' were fired on the occupiers," the Air Force Command of the Armed Forces of Ukraine posted on Facebook.
Unfortunately, Ukraine's Air Force lost one MiG-29 as a result of this battle. The pilot is being searched, the Command informs.
On February 24, Russian president Vladimir Putin announced the beginning of the invasion of Ukraine. Russian troops have been shelling and destroying key infrastructure facilities, conducting massive attacks on residential districts of Ukrainian cities and villages using artillery, multiple rocket launchers, and ballistic missiles.
Martial law was imposed in Ukraine and general mobilization was announced.
Ukraine officially filed a lawsuit against the Russian Federation at the UN International Court of Justice in The Hague. International Criminal Court Prosecutor Karim Khan initiated the start of investigation into the situation in Ukraine.
The Armed Forces of Ukraine, with the support of all Ukrainian people, courageously resist the Russian aggression.
ol